❀
moth eaten mag is a queer gothic space for your gorgeous hauntings and ghostly rottings.established in may 2023, moth eaten mag is dedicated to showcasing and uplifting queer writers. our tastes include horror, slipstream, stream-of-consciousness, things that are creepy, eerie, haunted, weird or strange. we especially love pieces that combine the darkly horrifying with the starkly beautiful.
❀
❀
WEBSITE FEATURES: we are currently open for website features! see general guidelines for submissions below.ISSUE SUBS: issue II subs open dec 15 to jan 31 for our themed issue: evening with a vampire.CHAPBOOK SUBS: closed; will open on dec 1st with our sister publication, dogleech books. find sub guidlelines here: dogleech booksmoth eaten mag accepts poetry, art, flash fiction, short stories, photography, reviews, essays, and hybrid works. no hard word limits. send us as much as you'd like.email all submissions to [email protected].we'll leave the formatting up to you. just make it legible (or provide transcripts).please include your name, pronouns, and a short (50 words) bio with your submission.please use appropriate content warnings for your work. we're down to read dark shit. just please let us know what we're in for before we begin reading.simultaneous subs encouraged! just let us know if anything you've subbed gets accepted elsewhere so we can congratulate you!!we are currently a non-paying market. we offer issue contributors one free copy of the issue their work appears in as compensation. there is no compensation for website features.we are a one-man show. we treasure each submisson and take the neccesary time to read & decide. current turnaround time to hear back from us is 1 week to 3 months.happy submitting <3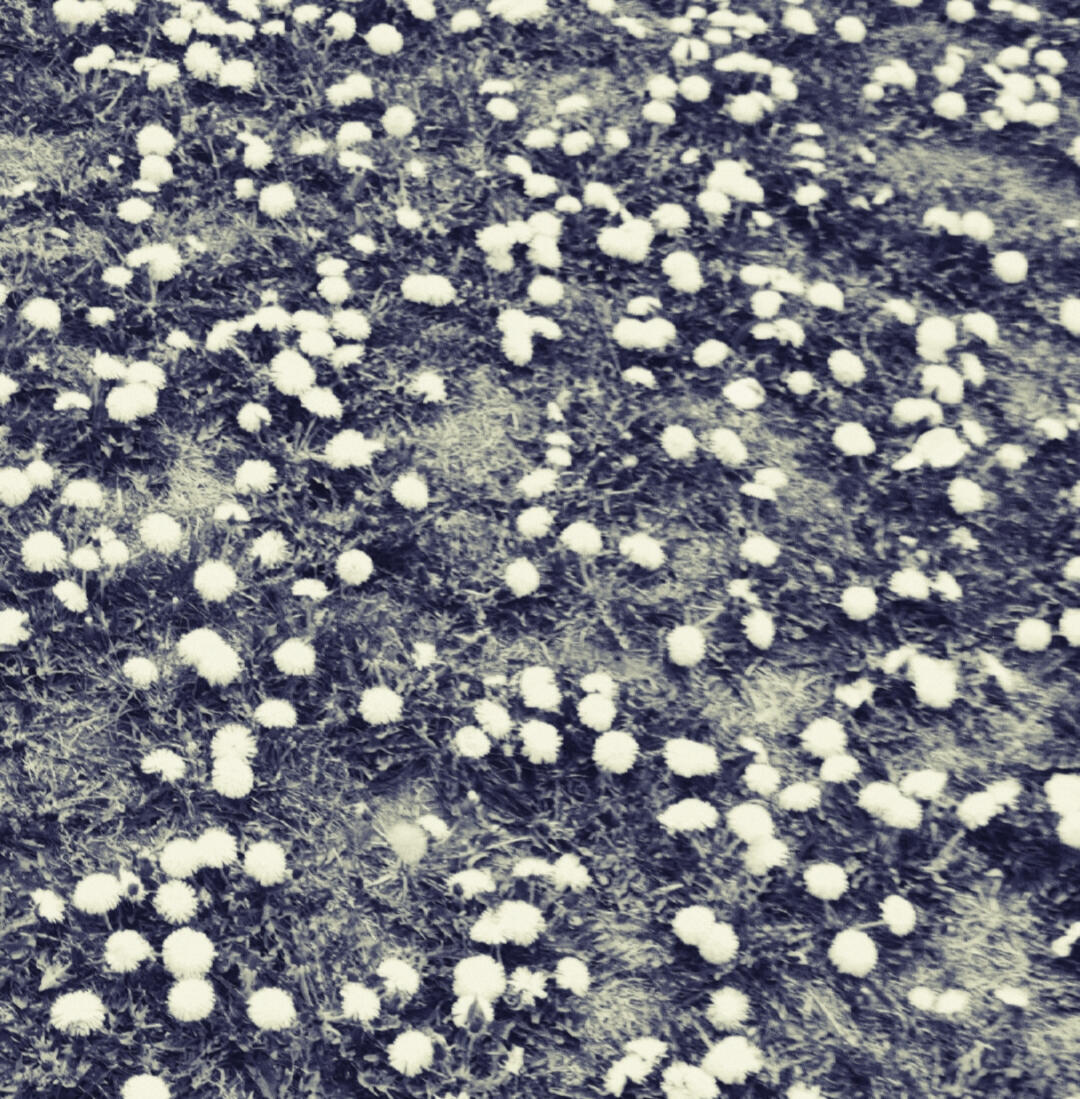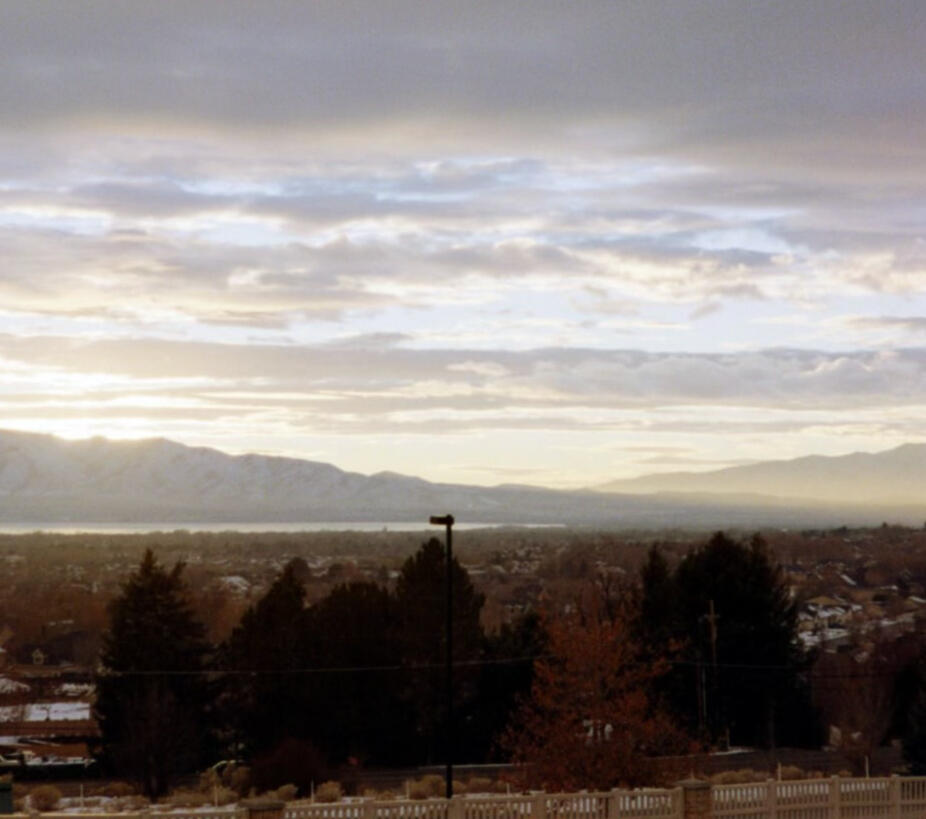 ❀
❀
eic
dre levant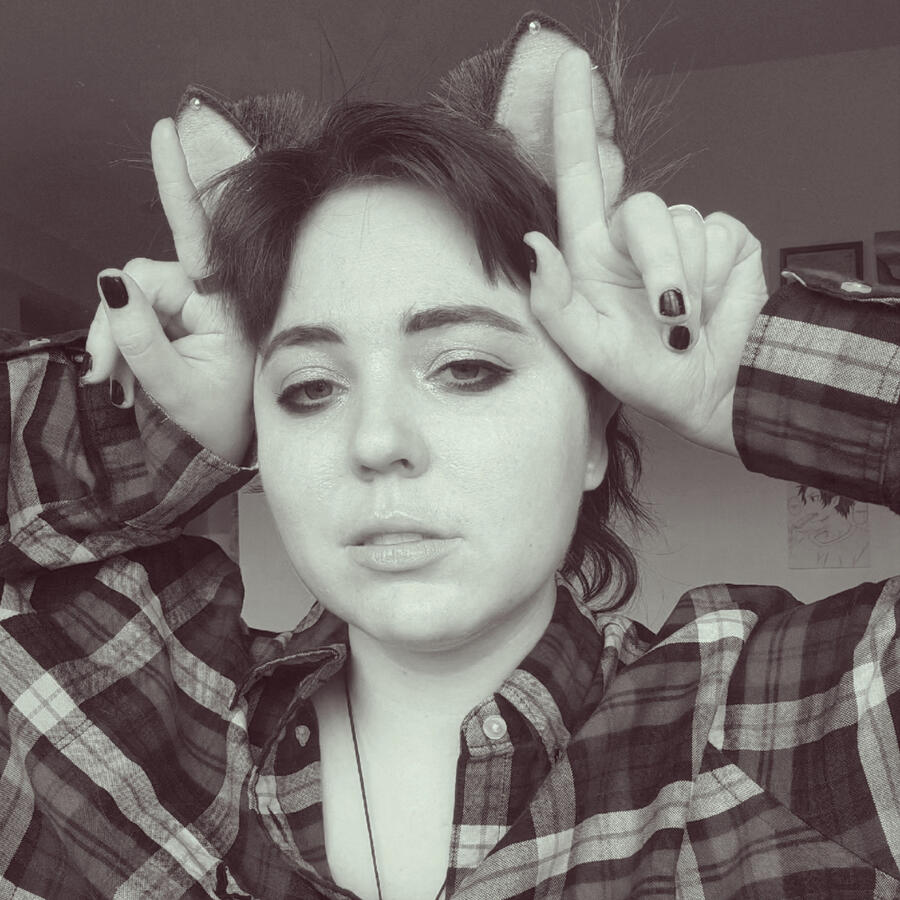 dre levant (he/they) is a trans masc genderqueer writer & artist. majoring in english with a minor in visual arts, dre has a love for the creative that can't be sated. dre likes to wear as much glitter eyeshadow as possible, collect cozy blankets and make wine cellars in minecraft. he is the author of icarus rising (kith books '23), jack invites werewolves to the tea party (alien buddha press '23) and our lil atrocities (paper teeth press '23). for snippets of poetry and cat pics, follow @drethepiper on instagram and twitter.
assistant editor
sochi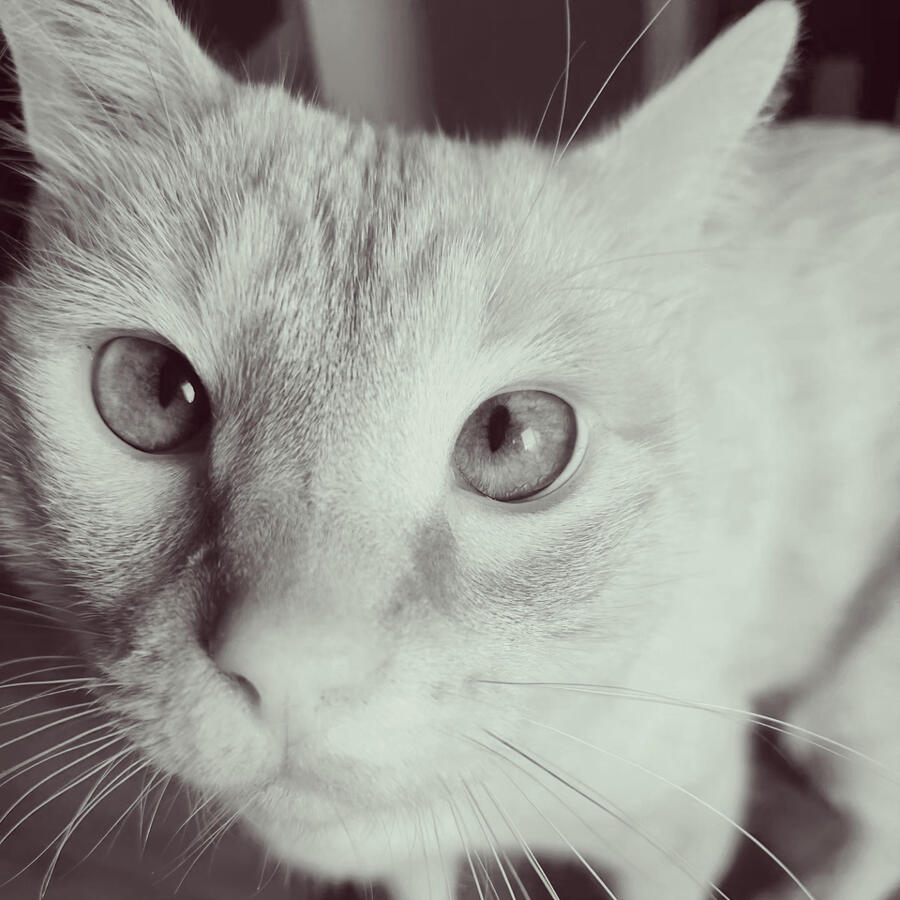 sochi (he/him) is a flame point siamese mix. he is a cancer sun, so he loves loves LOVES cuddles. his favourite toy is a blue ribbon and he likes to snuggle right up on peoples' faces. he's still learning how to read, but he is doing his best and can't wait to review your submissions.
assistant editor
greyjoy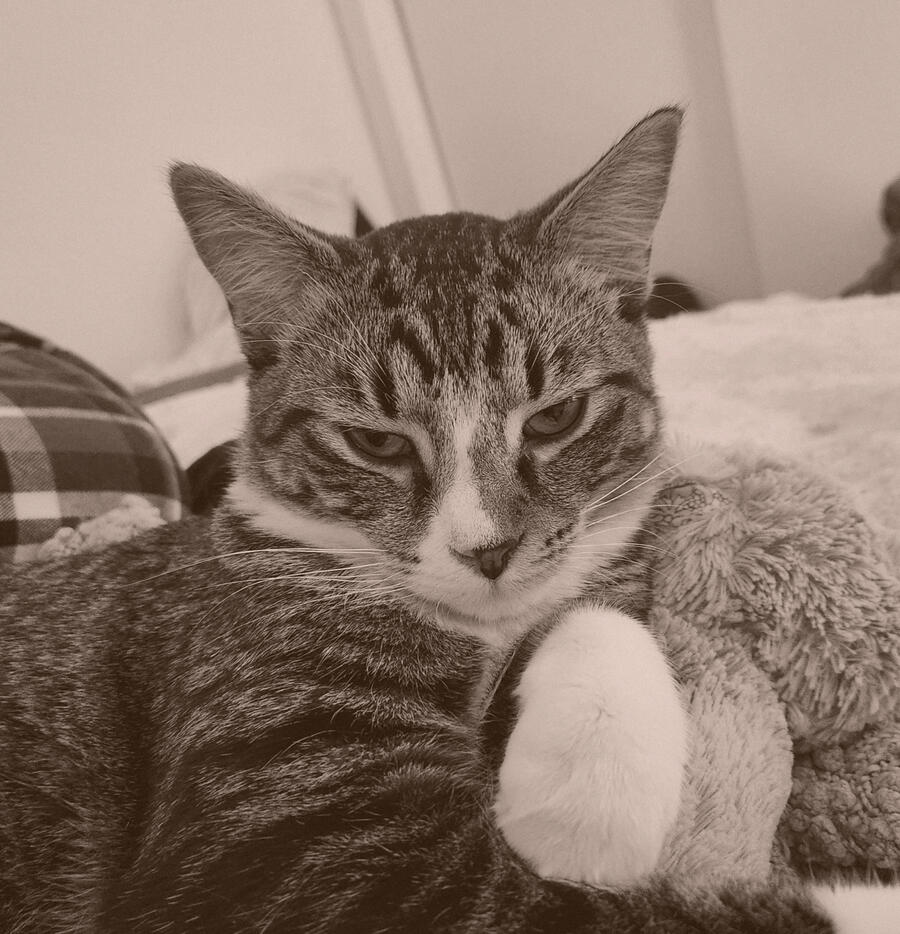 greyjoy (he/him) is a little rascal of a tabby. he's a leo sun with a capricorn moon so he's all about being held as much as possible. he mostly naps on the job.
❀
moth eaten mag presents
❀ an online vault of delightfully dark work ❀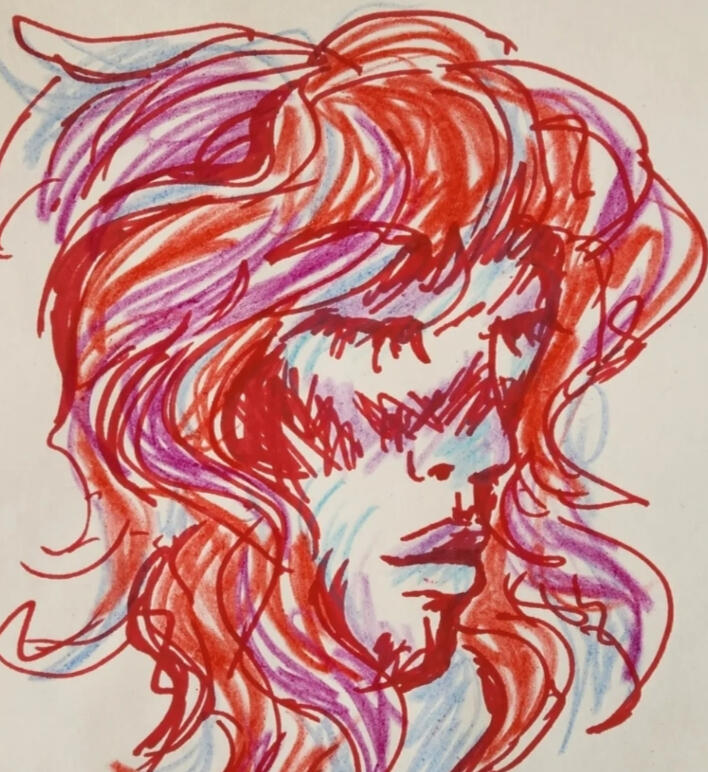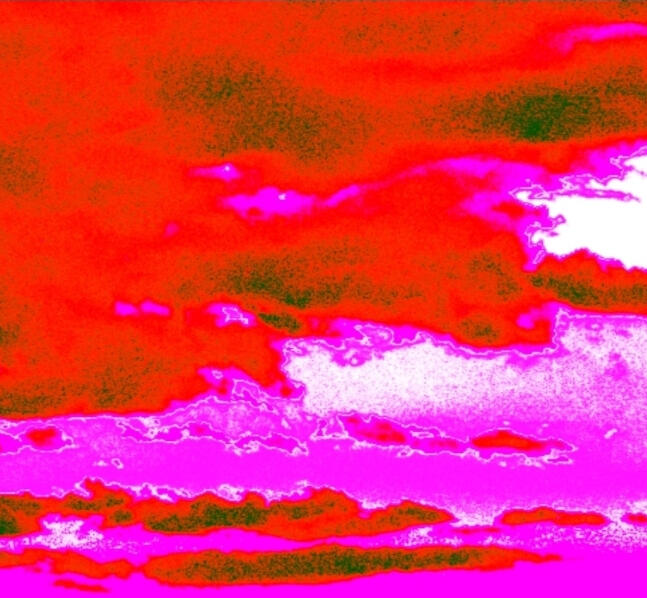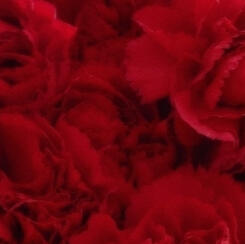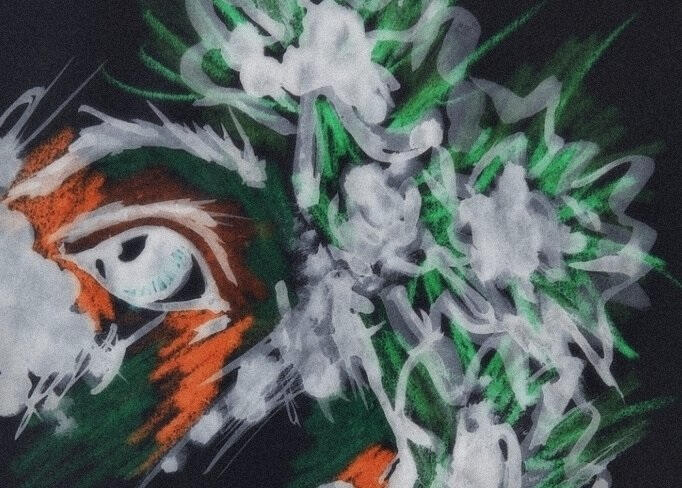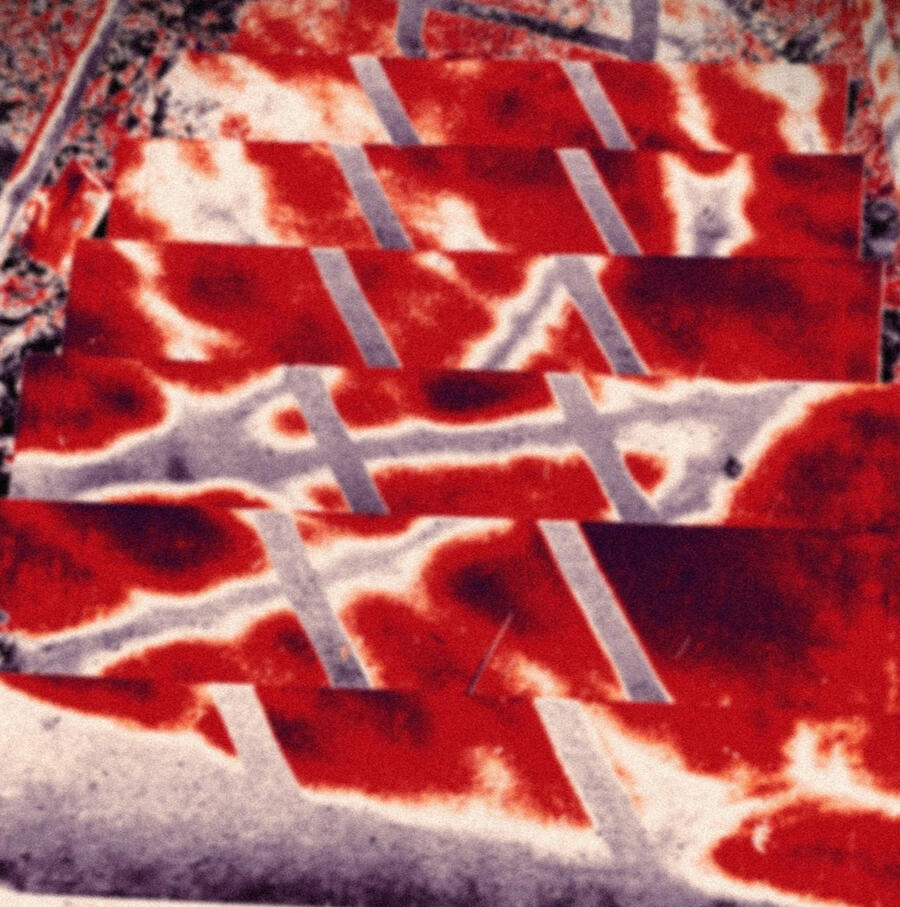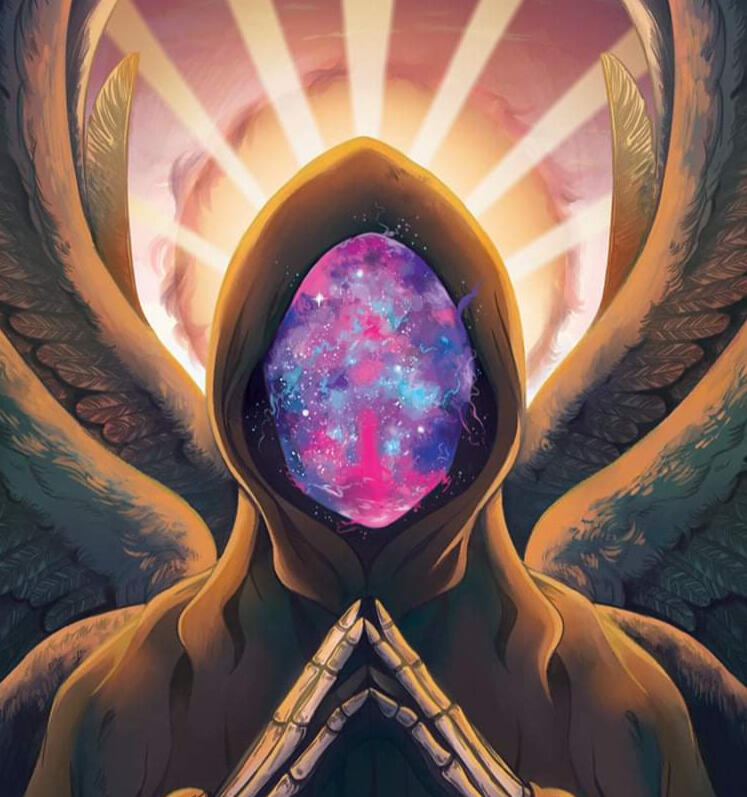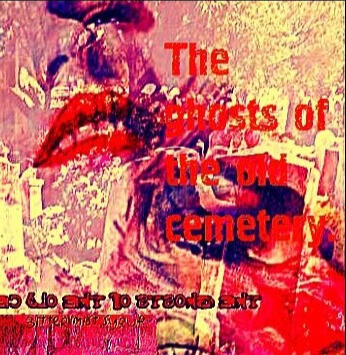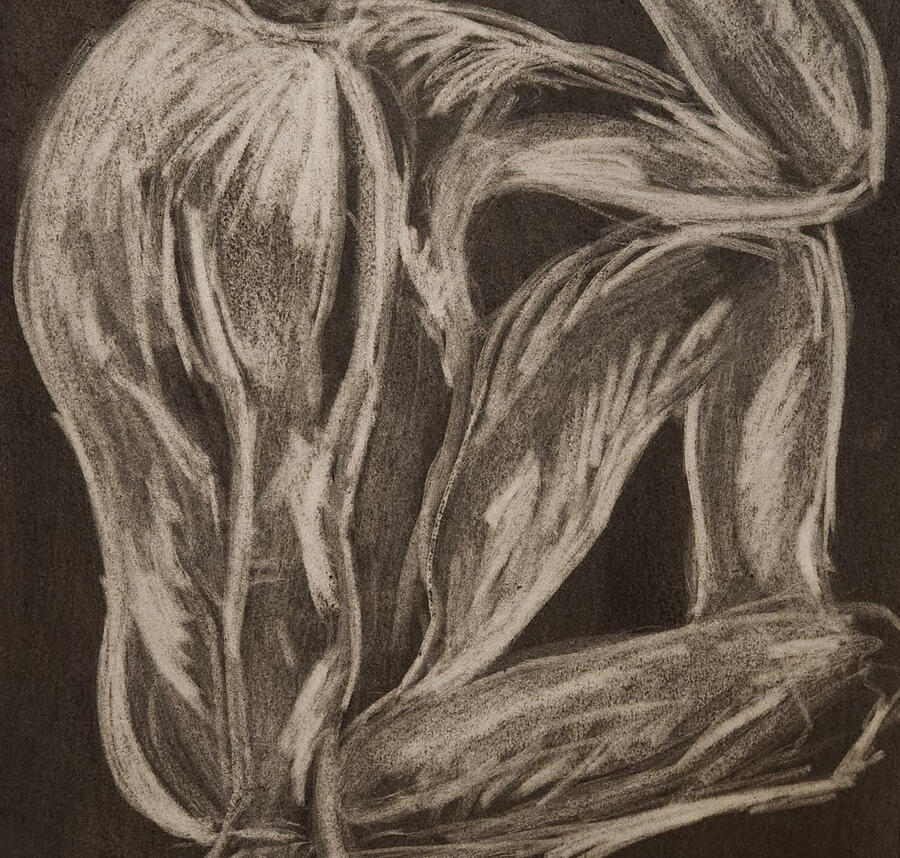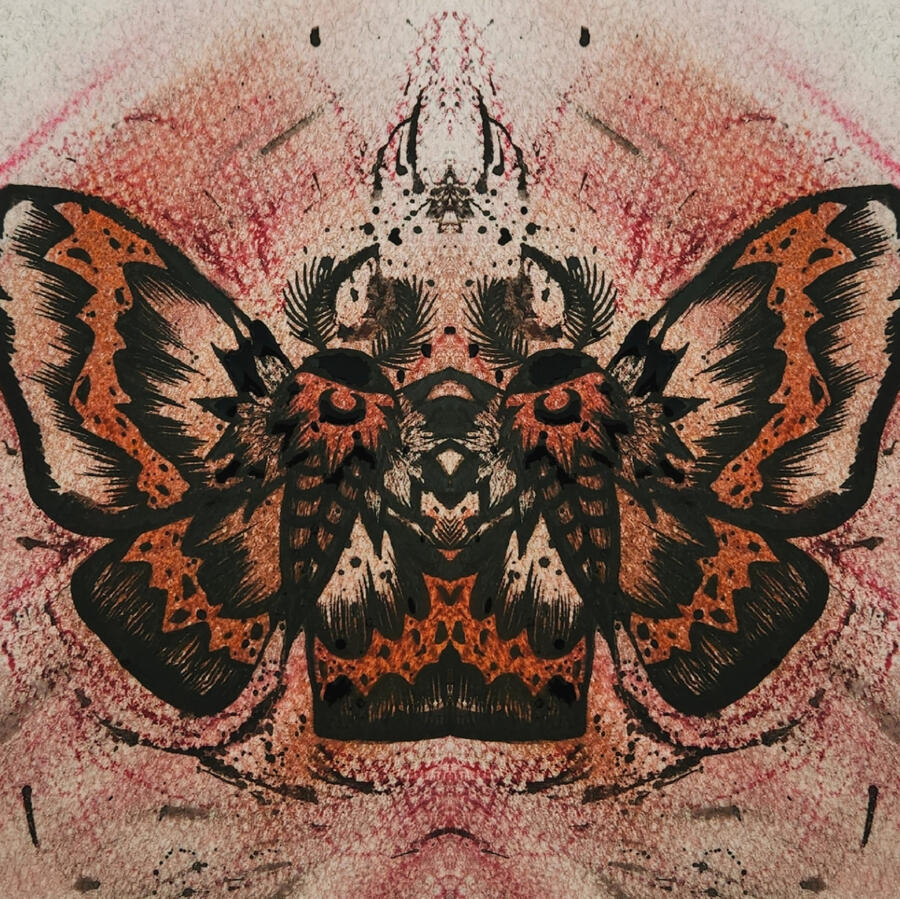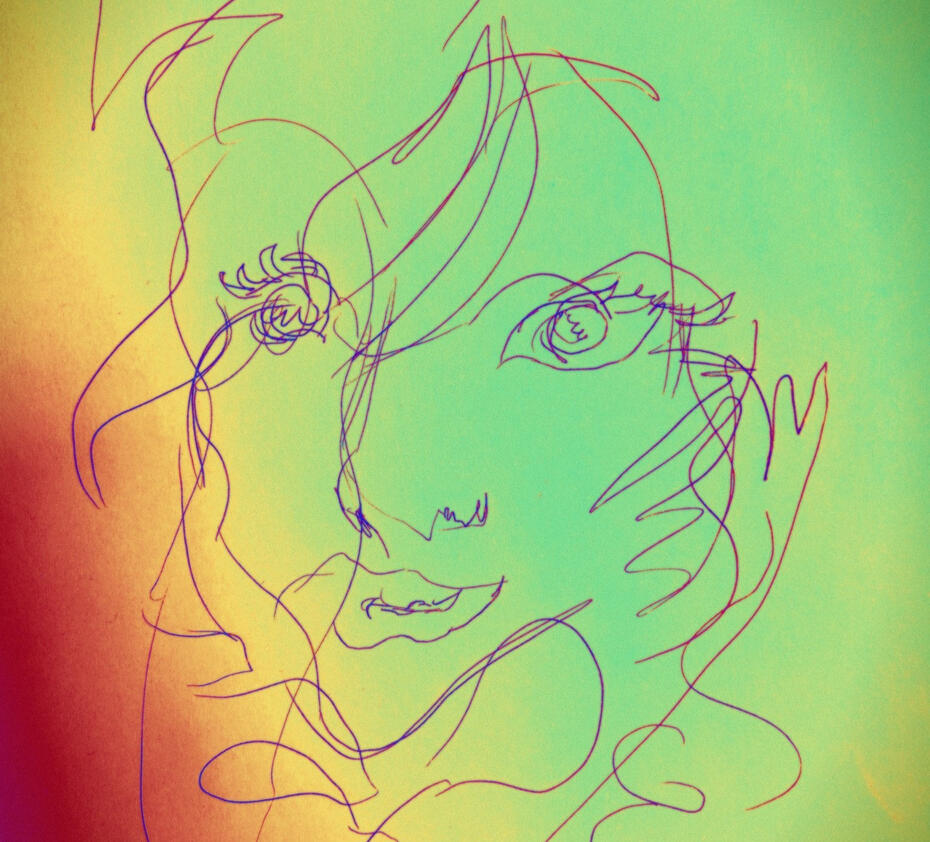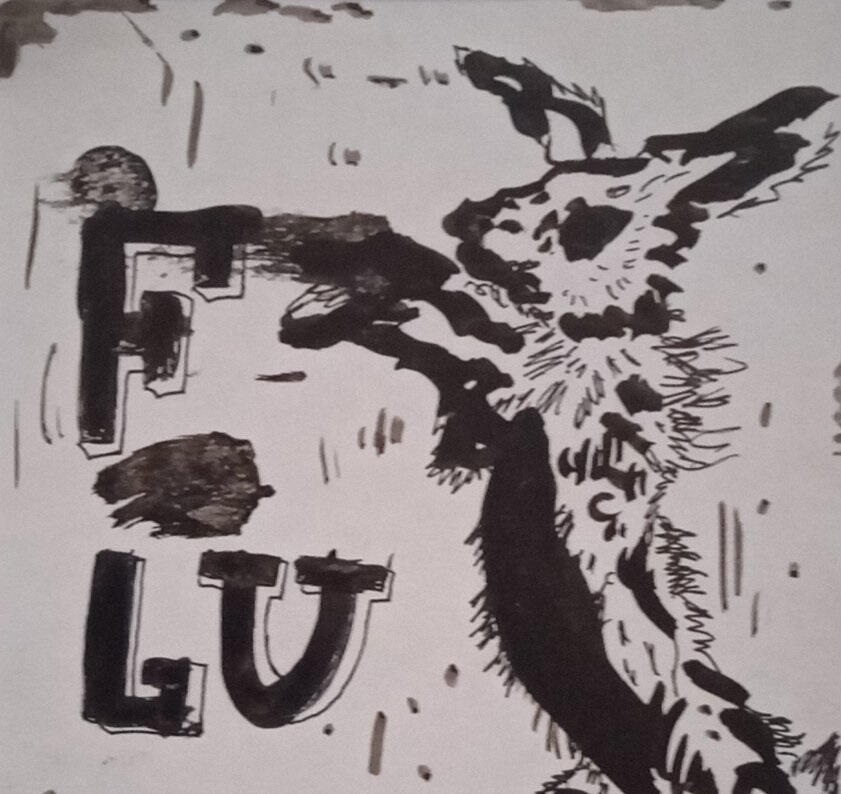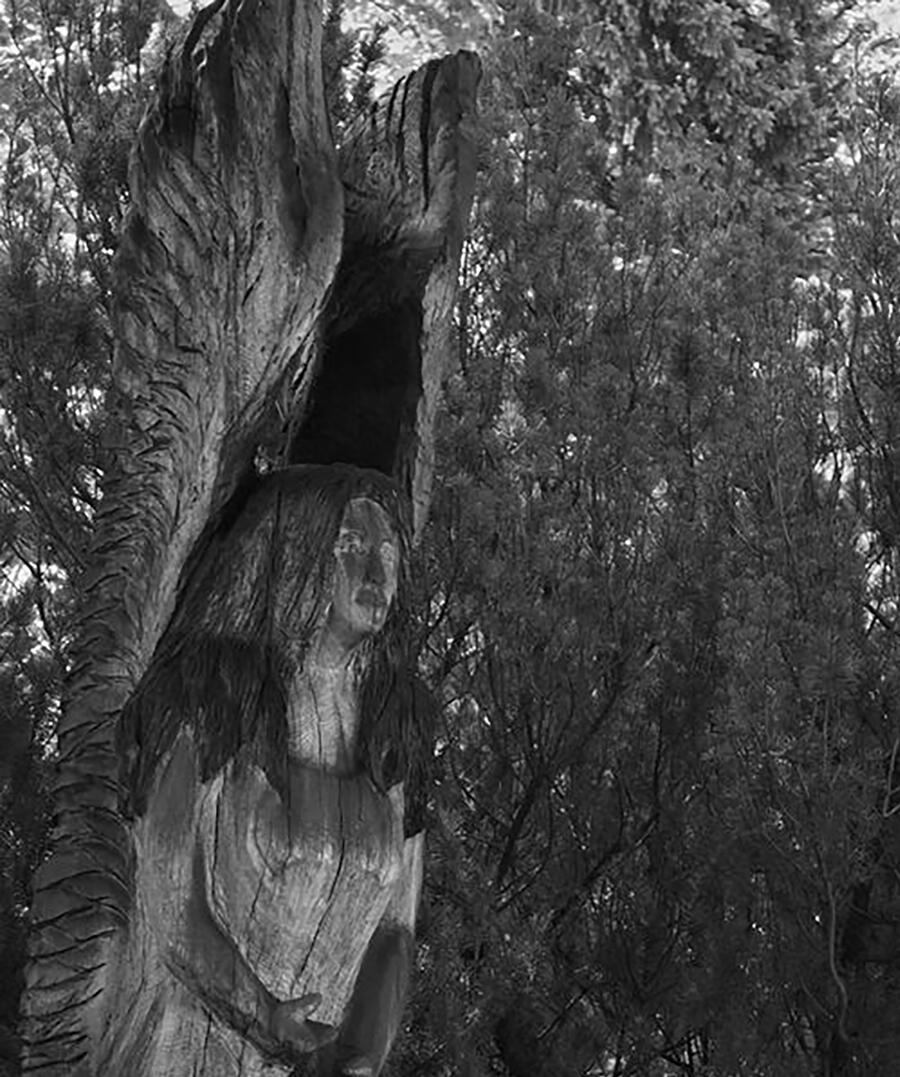 "The Devil"
❀ by West Ambrose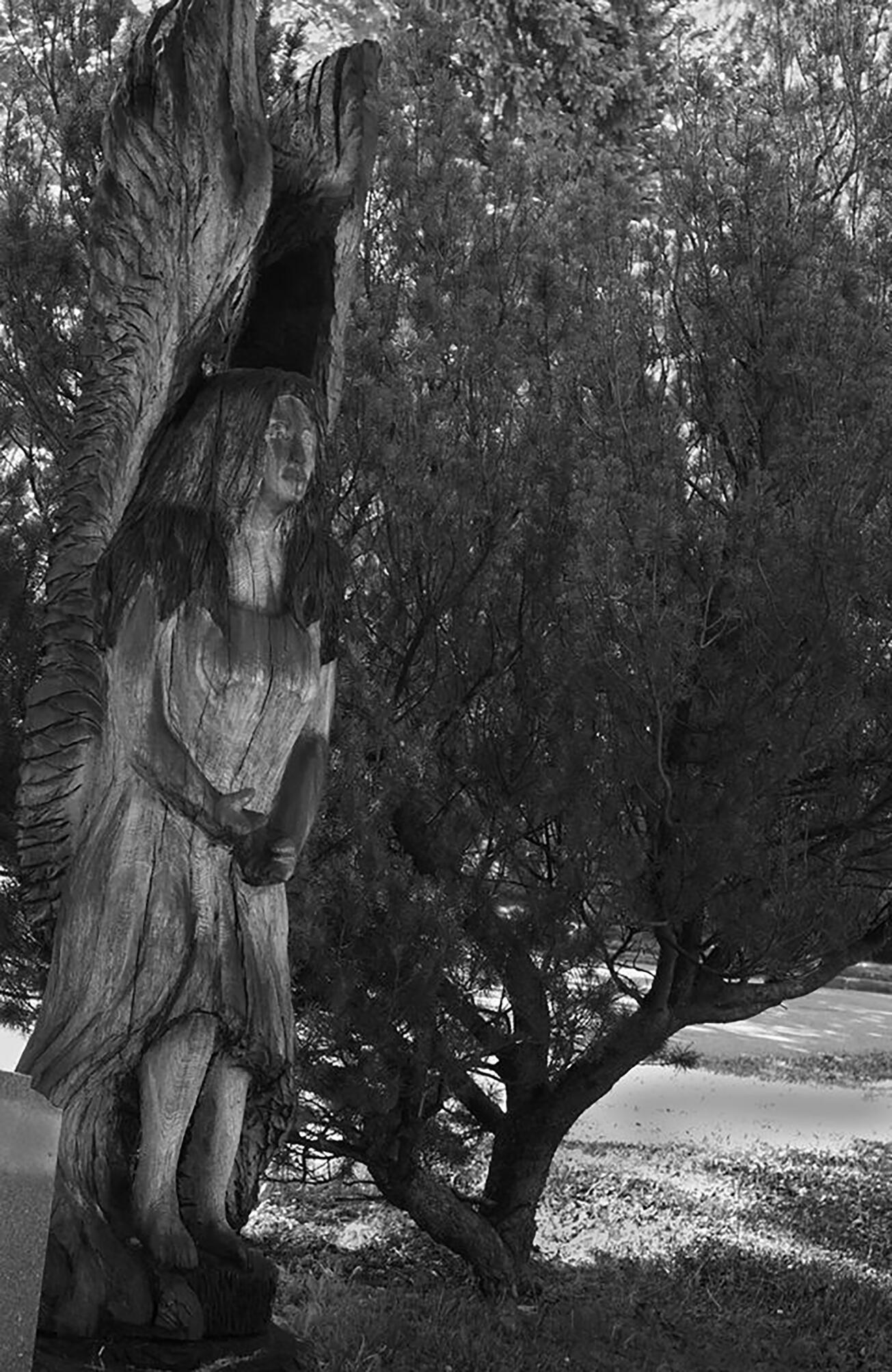 accompanying art piece: "starbent" by dre levant, used with permission of the artist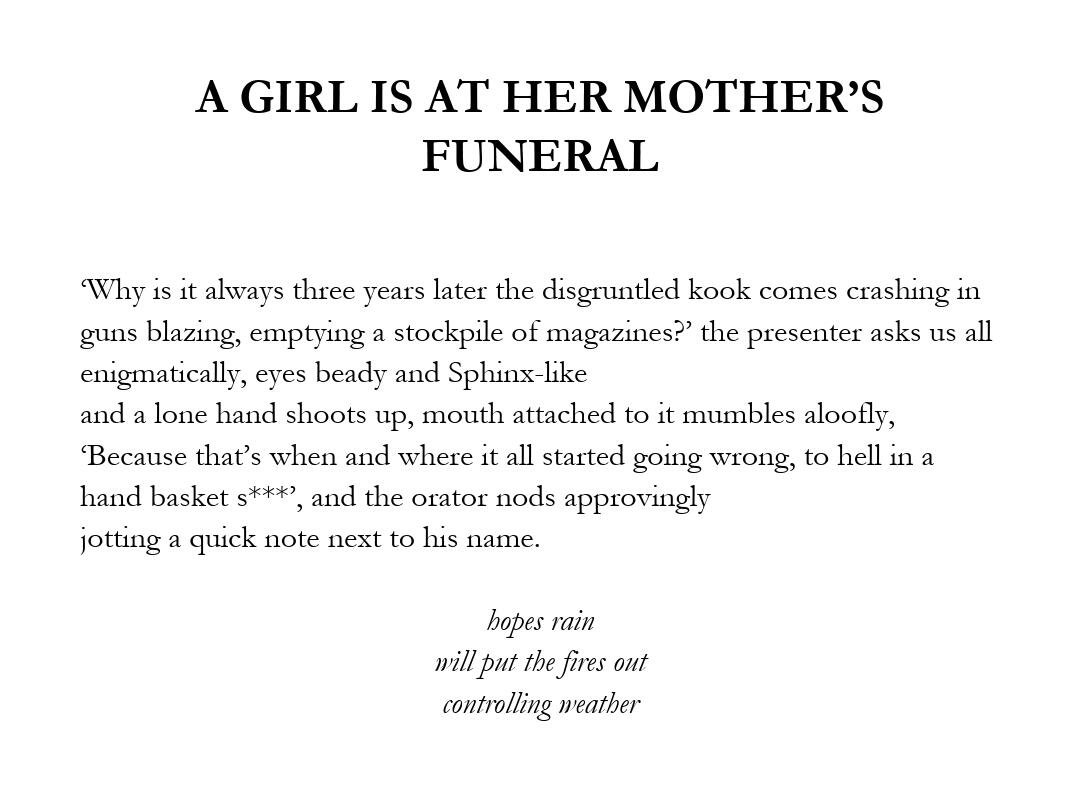 ALT TEXT for West Ambrose's poem,"The Devil"The Devilwants to play chess on a Saturday night;spill guts for White,
spit acid for Black—Spar the Separation, then sink in;
Do you have the time for weighting options,
do you have the wager left
to slink around, swaddling Nonsense?Do you still chew your tears before
tearing the chewed up
bite
only to spit it all out again?
Do you dance
on the head of a damask,
before burying
your head through the filigree wallpaper?Do you still change landlocked for deepest baby blue,
swapping out skeleton key after skeleton key for a single, perfect note—Do you sign your signature in G augmented, and press the letters I once wrote
To You; an antic disposition is sweetest shared, a sonata of Madness' divine sense…Too close: all things monstrous trade shapes in the dark; fire by brimstone, checkmate by checkmate,
waiting to disembarkTo Denmark:
where I drank of your body
and you played the violin, sprawling under
the skimmed sheets of the moon, cradling each milky crescent of bariolage, burning
down
the bridges of our titles,
until we breathed out star after star; More, by the union of our hips,
More by the ashes of your soul, your hands caressing my bruised flesh, gazes stinging;
More by the flames
higher than
every fleeting arpeggio of smoke, too tender, the hymns we didn't speak;singing still
in all these crashes—
the unholy elision of our bared teeth.
about the author
❀
West Ambrose is a writer and grad student. Their pronouns are he/him and they/them. They are trans, queer, and disabled/chronically ill. They are fascinated by the works of Herman Melville and in their free time love to find weird old teapots and make granola bars that are both vegan and duck friendly. Their twitter is @westofcanon and their website is westofcanon.com where you can find their creative works inspired by antiquity and classic lit. The website, westofcanon.com, is also the home of the Crow's Nest and HLK Quarterly, an opportunity for the folks of many/any disciplines with interest in nautical and seaward things.
❀
published June 8th, 2023
"What Girls Do In Empty Classrooms"
❀ by Claudia Jane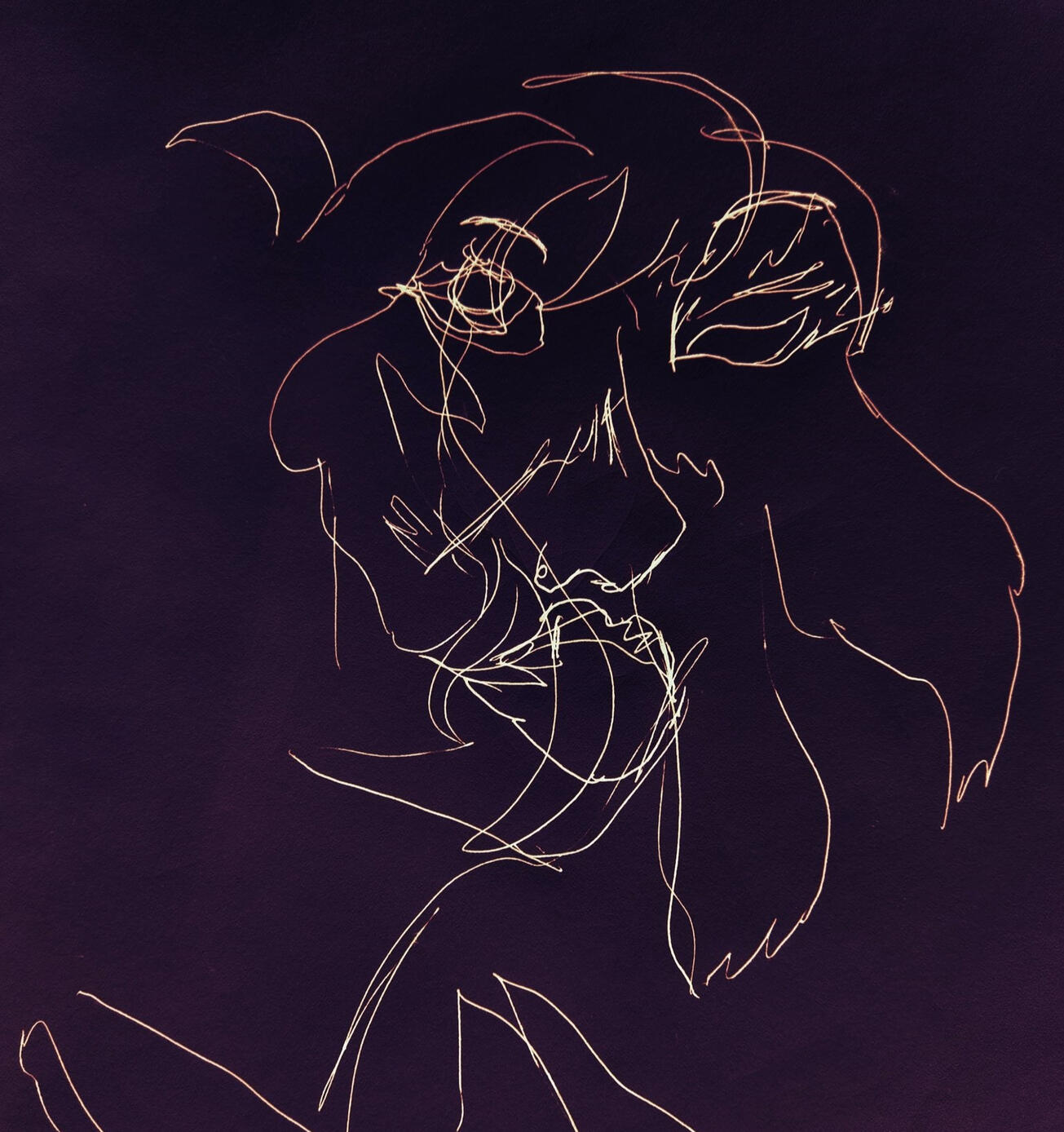 accompanying art piece: "girl" by dre levant, used with permission of the artist
What Girls Do In Empty ClassroomsShe dances like mother earth is her guidance to the center,
firm winds flowing through the open window of the empty classroom,
failed illusions of the purple sky.In the early mornings of Thursday, not a soul goes by
besides the wise ol' professor who pretends
she doesn't exist,
(unknown smiles from both parties in the know).Lashes are closed onto cheeks,
images of a better Earth flooding her mind like purifying incense;
she dances, stepping over dead bodies whilst
twirling spiderwebs around her pointed finger
covered in ink and gems.Reality is not unlike the darkness of it all,
creaking Docs and skirt in the kiss of nature.
Peace stays for only hours
(much too little time).Chalkboards are covered in dreams–
confusion arises, yet
she smiles sinisterly, entranced
in this gods forsaken world.
about the author
❀
Claudia Jane is a hard of hearing Creative Writing student in Pittsburgh, PA. She is a lover of the human arts and late night dreams. You can find Claudia at cjanepoetic.
❀
published June 9th, 2023
"Coloikn, born from the skin of a tiger" & "Jumping Bunny (Joseph Beuys dedication)"
❀ by Irina Tall Novikova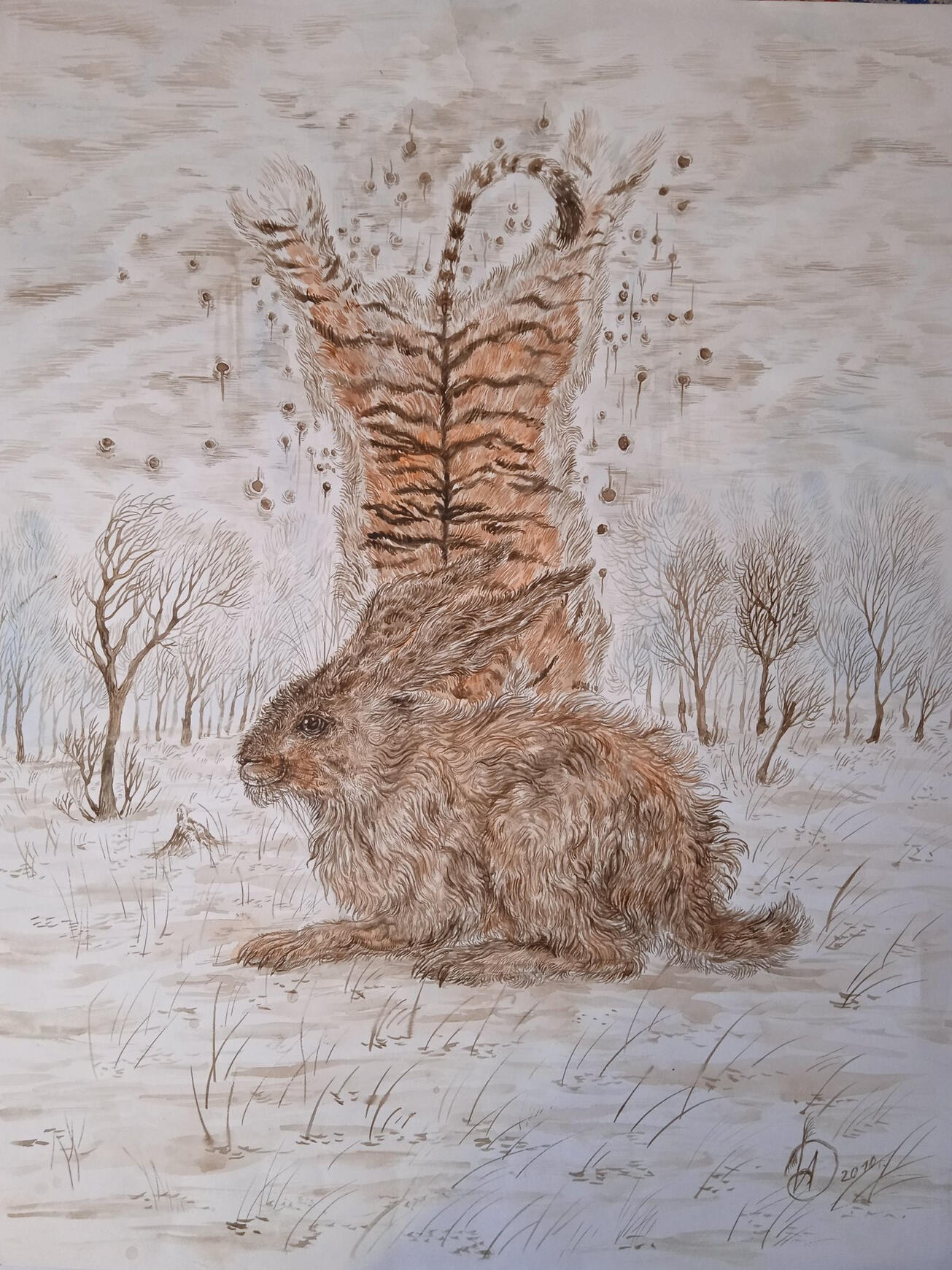 "Coloikn, born from the skin of a tiger" by Irina Tall Novikova
Materials: watercolor, paper
Size: 50x70 cm
Year: 2020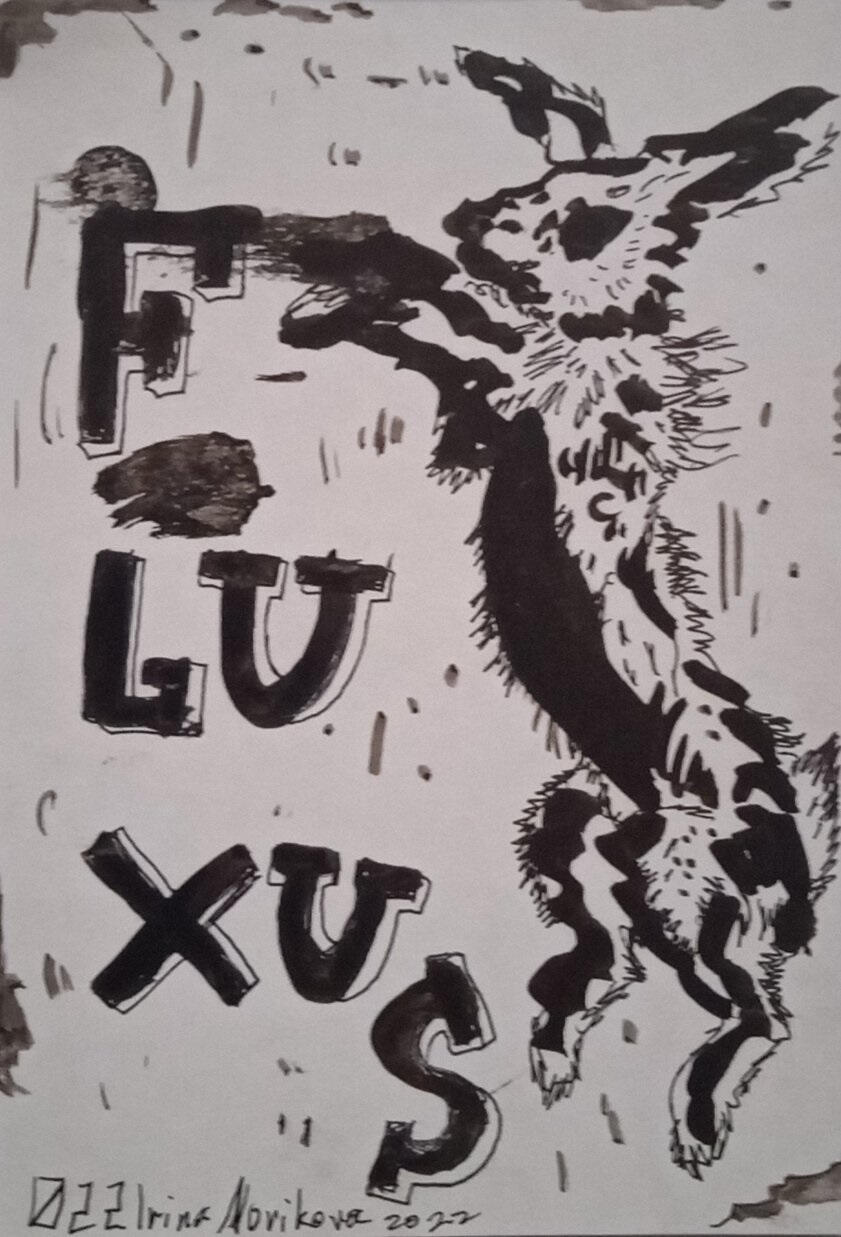 "Jumping Bunny (Joseph Beuys dedication)" by Irina Tall Novikova
Materials: ink, paper
Size: 10x15 cm
Year: 2023
about the artist
❀
Irina Tall (Novikova) is an artist, graphic artist, illustrator. She graduated from the State Academy of Slavic Cultures with a degree in art, and also has a bachelor's degree in design.The first personal exhibition "My soul is like a wild hawk" (2002) was held in the museum of Maxim Bagdanovich. In her works, she raises themes of ecology, in 2005 she devoted a series of works to the Chernobyl disaster, draws on anti-war topics.Find Irina on Instagram: @irina369tall & @irinanov4155.❀
published June 10, 2023
"you replicate personalities like a shattered mirror"
❀ by tommy wyatt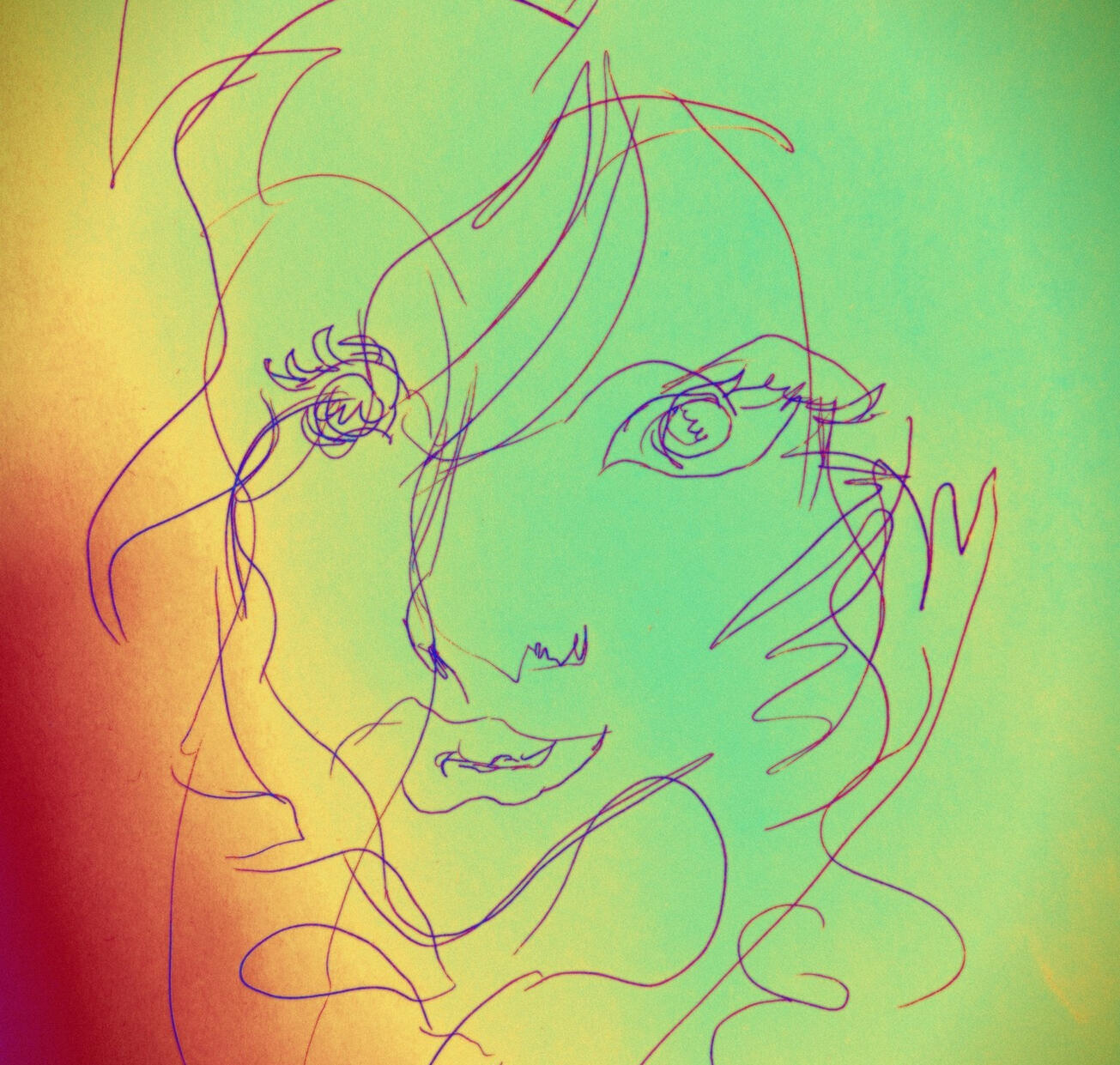 accompanying art piece: "sideways" by dre leavnt, used with permission of the artist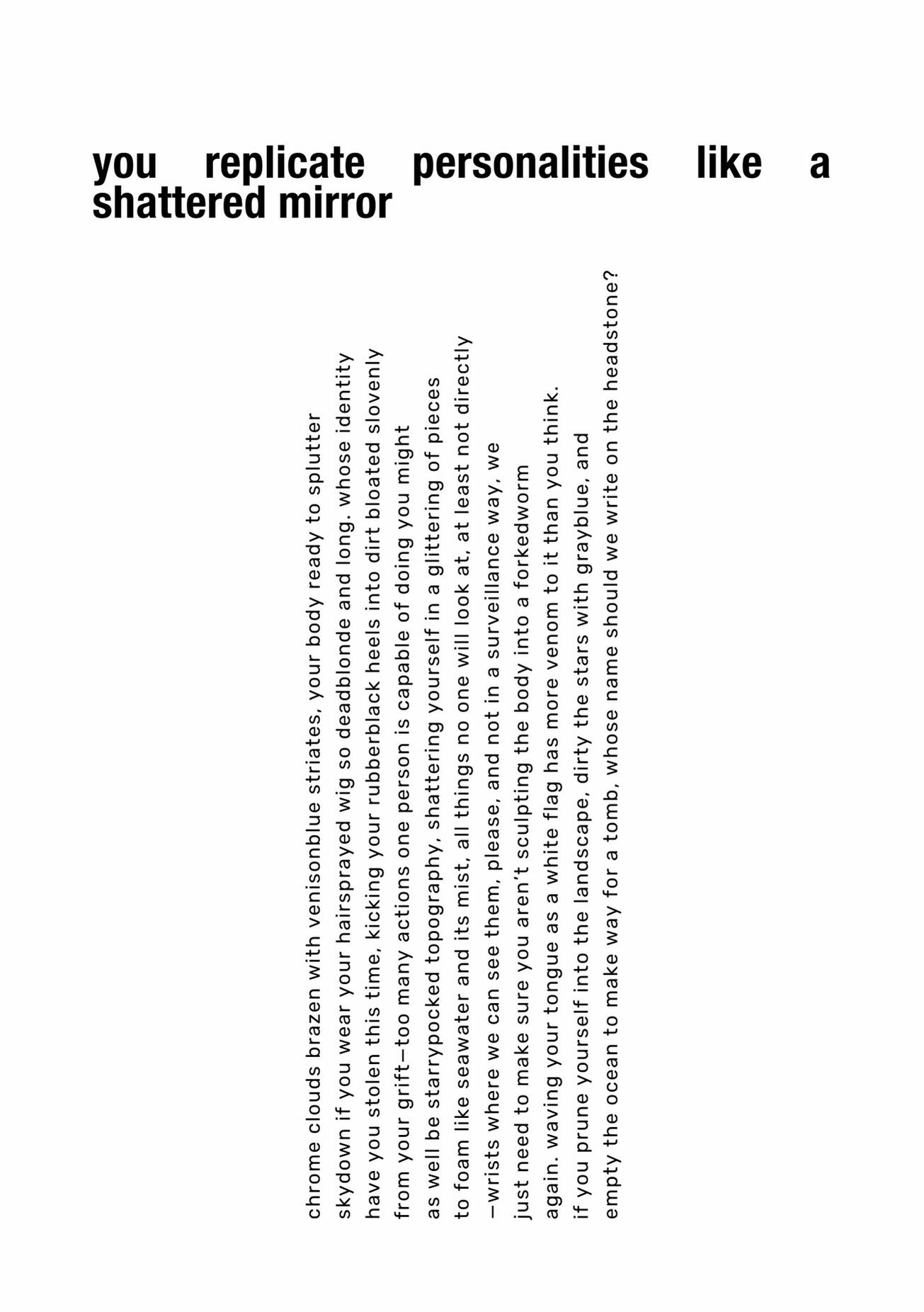 ALT text for tommy wyatt's poem, "you replicate personalities like a shattered mirror"chrome clouds brazen with venisonblue striates, your body ready to splutter
skydown if you wear your hairsprayed wig so deadblonde and long. whose identity
have you stolen this time, kicking your rubberblack heels into dirt bloated slovenly
from your grift—too many actions one person is capable of doing you might
as well be starrypocked topography, shattering yourself in a glittering of pieces
to foam like seawater and its mist, all things no one will look at, at least not directly
— wrists where we can see them, please, and not in a surveillance way, we
just need to make sure you aren't sculpting the body into a forkedworm
again. waving your tongue as a white flag has more venom to it than you think.
if you prune yourself into the landscape, dirty the stars with grayblue, and
empty the ocean to make way for a tomb, whose name should we write on the headstone?
about the author
❀
tommy wyatt (he/they) is the author of NOW THAT'S WHAT I CALL HORROR! (Gutslut Press, 2023), So, Who's Courage? (Bullshit Lit, 2023), JETTISONED (selfpub), and others. he's currently writing about dissociation and the things that go bump in the night, and probably is reading Goodnight Punpun as his cat, Cosmo, is by his side.
❀
published June 14, 2023
"If You Let Me" & "Darker Magic"
❀ by Sadee Bee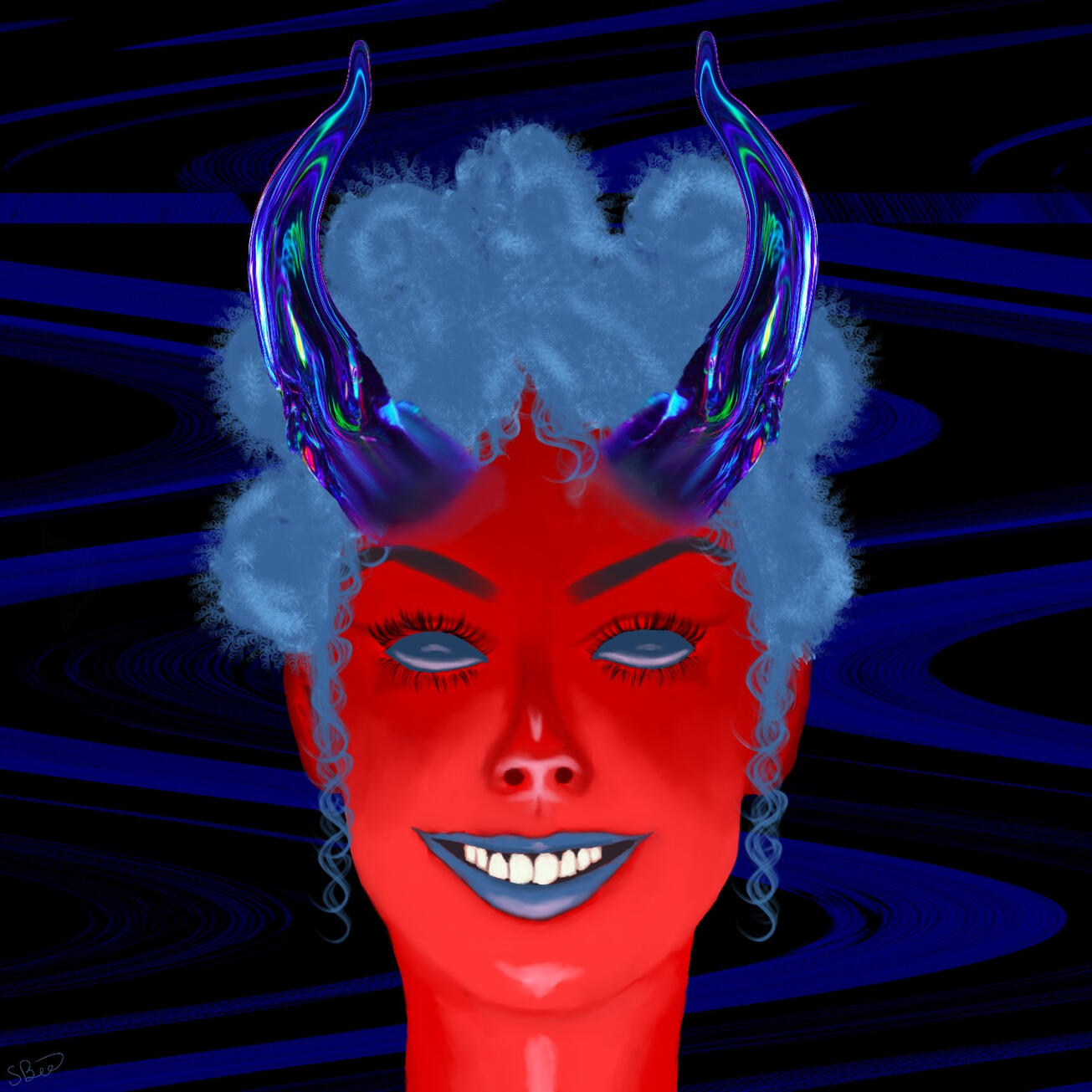 accompanying art piece: "Demon Babe" by Sadee Bee, used with permission of the artist
If You Let MeMy hurt bites like a viper. Venom seeping deep, burning a path to the heart
of all things.
This hurt is Henbane and Oleander steeped in the richest nectar.
It must go down easy. If you could taste the bitter sting, the prickling
on your tongue. You would beg me to stop.
Yet, I have only just begun.
Feel the gnashing of teeth, coated in Stinging Nettle, rip
into that wanting flesh.
I will only hurt you if you let me.
Let me hurt you. Only hurt you. If you let me.
You should not let me.Oh, my dear, my hurt shall devour you.❀Darker MagicThese are no holy hands /
sanctified eyes / nor pure
intentions /
I spring from darkness /
Of darker magic /
Once coveted by all /
Now hunted to ruin /
Erased from lips /
I shall not suffer silence /
Fear my wrath /
My bellows /
From beneath this Earth /
about the author
❀
Sadee Bee is a queer artist and writer inspired by magic, strange dreams, and creepy vibes. Sadee is the Visual Arts Editor for Sage Cigarettes Magazine and the author of Pupa: Growth & Metamorphosis and Magic Lives In Girls. Sadee can be found on the web at linktr.ee/SadeeBee.
❀
published June 19th, 2023
"mothman gives me some advice"
❀ by B.C.A Morgenstern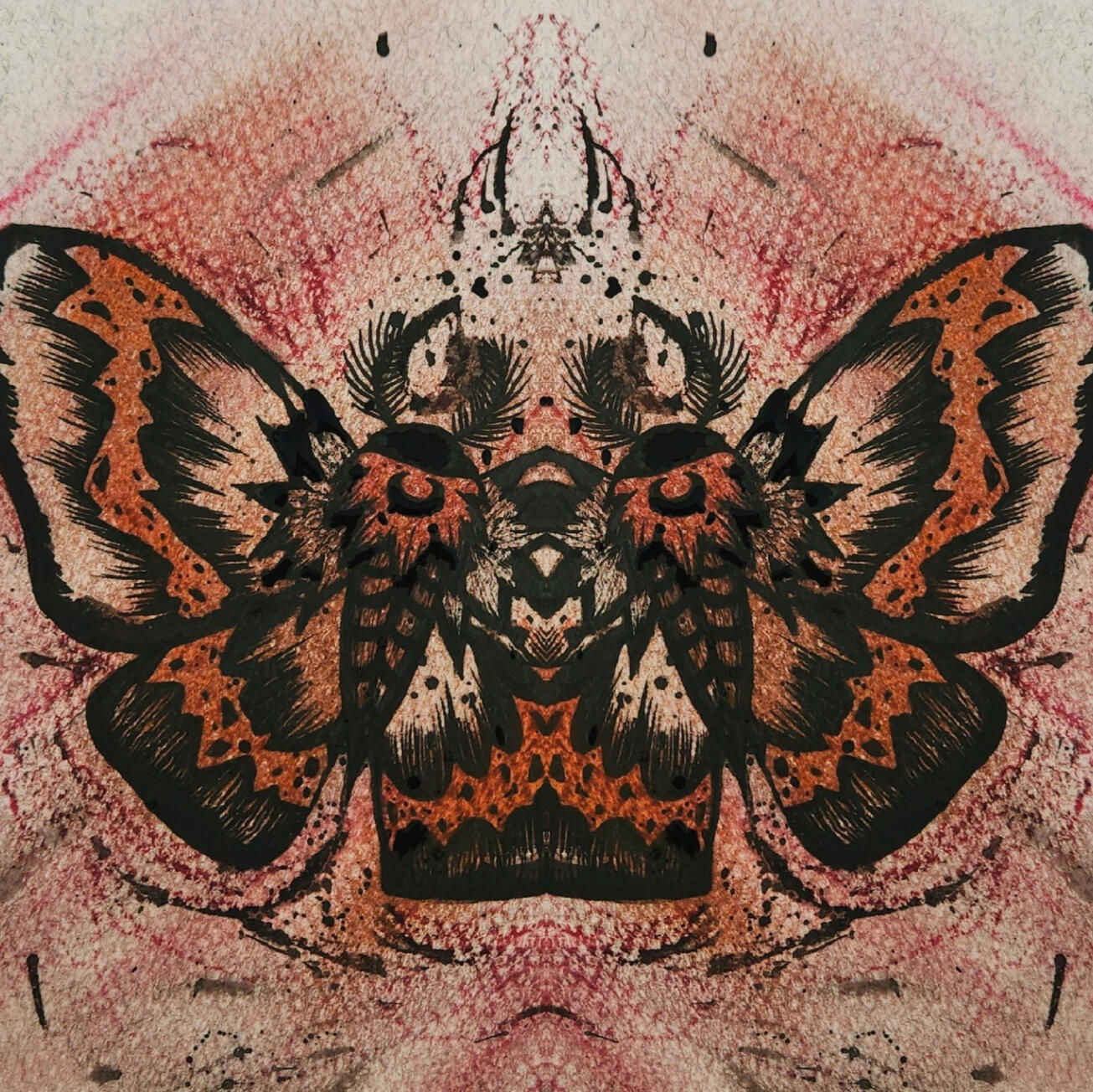 accompanying art piece: "moth eaten" by dre levant, used with permission of the artist
mothman gives me some advicei met mothman in a crumbling treehouse in the west virginia woods, just him and i in a haze of rotting
wood and petrichor. there, in the silver moonlight, he caught me in his glowing red eyes— the most
seen i'd ever been. he wanted to strip the bark from my core and i let him. between kisses that tasted of
campfire smoke and lemongrass, i told him everything. i opened my chest to show him the hollow holes
that littered it like craters. when he traced their edges with his proboscis, it was almost reverent. so i
kept going; i told him about the things that lived in the parts of me that weren't hollow. the fog, i said,
motioning to my throat. the spiders, i said when i showed him my lungs. the mold, i said when he
cradled my brain in his hands. he held it more delicately than anyone else before, as if it was more
precious than rotten. there was only one thing left to say to him: a desperate plea for help, more of a
prayer than a request. "you think i can get rid of what haunts you?" he scoffed. "no. no, that's
something you must do yourself." but that's impossible. i don't know how. i don't even know where to
start. "your first mistake was thinking they were something to get rid of. don't you remember what you
learned? matter cannot be created or destroyed. only transformed. you must learn to transform. like
me, you must find a chrysalis. and, more importantly, you must emerge when it is time."
about the author
❀
B.C.A. Morgenstern (he/they/xe) is a writer creating poetry and fiction about various topics including (but not limited to) growing up, queerness, identity, love, and all the places his mind wanders to when he forgets to keep it in check. Currently, they are in the process of preparing their debut chapbook, Playground Graveyards, for publication. You can find xem on Instagram @bcamorgenstern and on http://patreon.com/bcamorgenstern.
published June 20th, 2023
"apostate"
❀ by conor thew
cw: religious trauma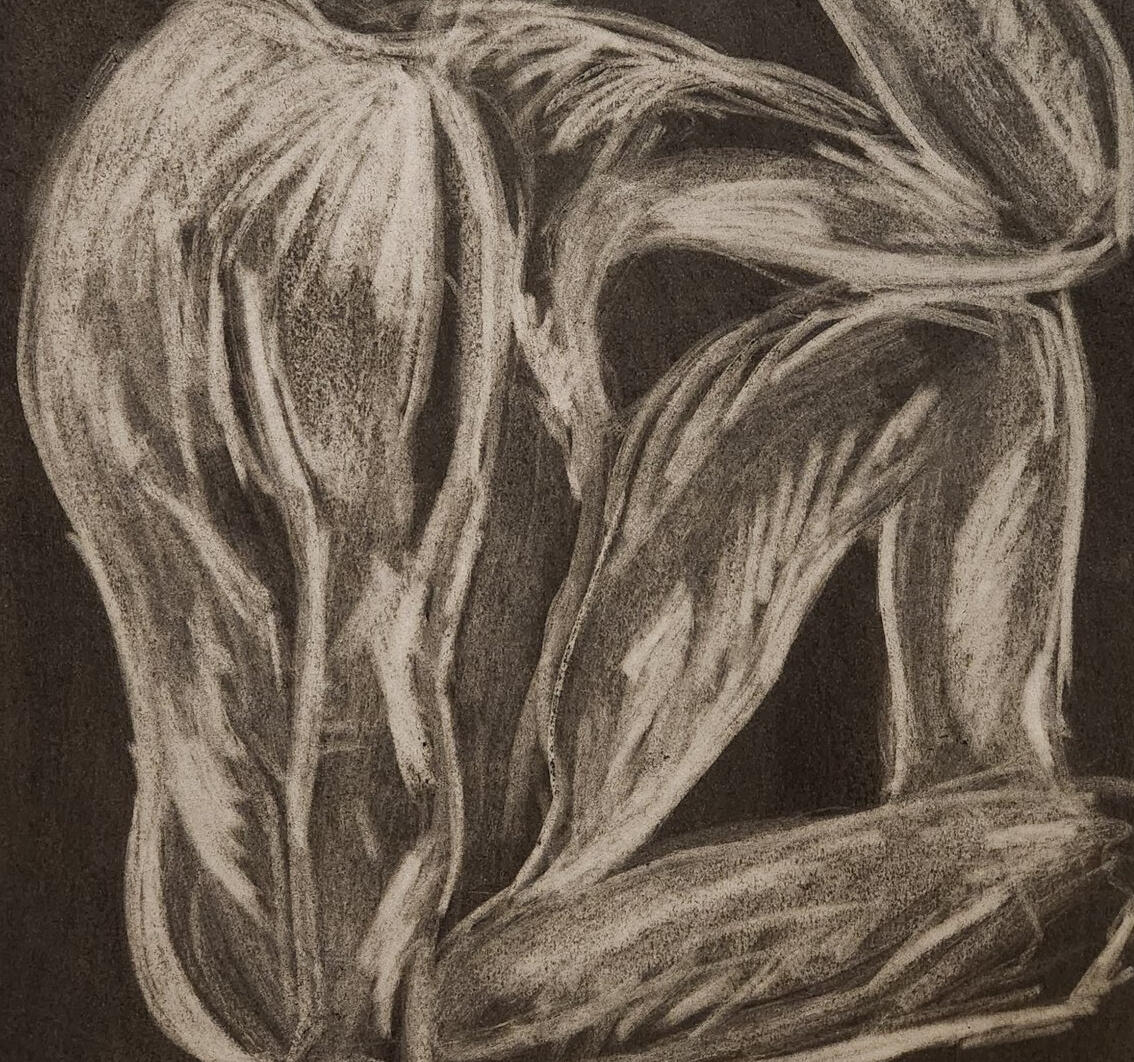 accompanying art piece: "limbs" by dre levant, used with permission of the artist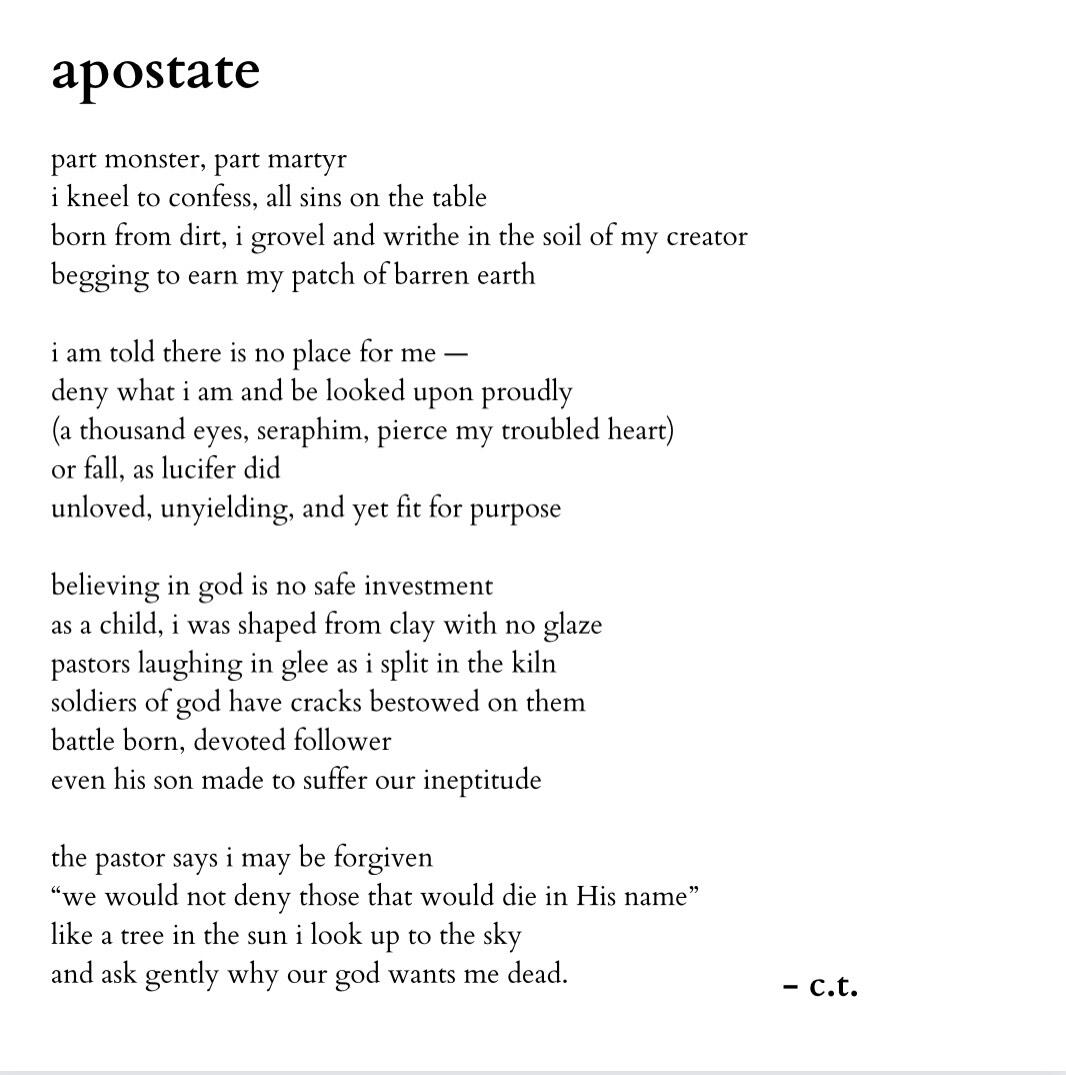 ALT TEXT for "apostate" by conor thew
cw: religious traumapart monster, part matyr
i kneel to confess, all sins on the table
born from dirt, i grovel and writhe in the soil of my creator
begging to earn my patch of barren earthi am told there is no place for me -
deny what i am and be looked upon proudly
(a thousand eyes, seraphim, pierce my troubled heart)
or fall, as lucifer did
unloved, unyielding, and yet fit for purposebelieving in god is no safe investment
as a child, i was shaped from clay with no glaze
pastors laughing in glee as i split in the kiln
soldiers of god have cracks bestowed on them
battle born, devoted follower
even his son made to suffer our ineptitudethe pastor says i may be forgiven
"we would not deny those that would die in His name"
like a tree in the sun i look up to the sky
and ask gently why our god wants me dead.
about the author
❀
conor thew (@gravesgate) is a 22-year-old trans writer and poet from the uk. this poem was written to explore the religious trauma he experienced growing up in two christian schools, and the shame he felt for being a closeted queer man during those years.
❀
published june 26th, 2023
"The ghosts of the old cemetary" & "The right angle is the symbol of death"
❀ by Laszlo Aranyi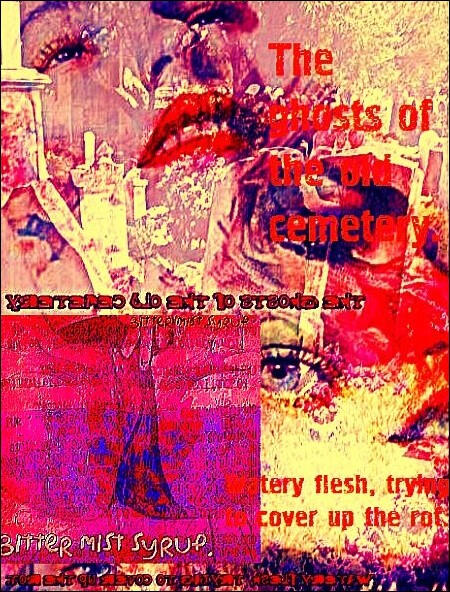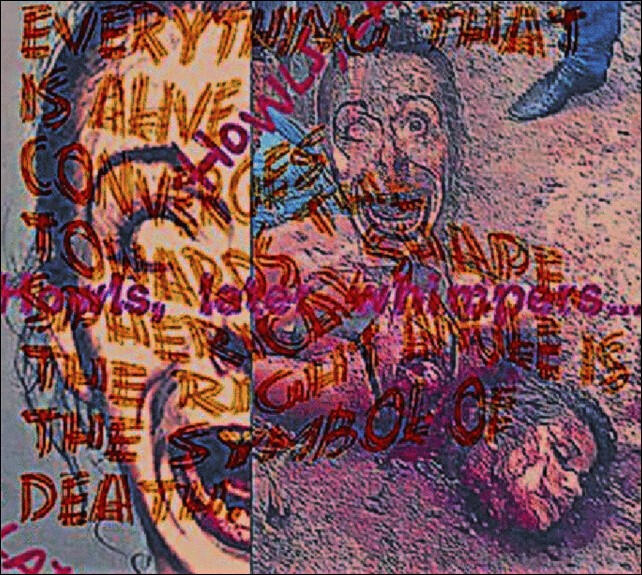 about the artist
❀
Laszlo Aranyi (Frater Azmon) poet, anarchist, occultist from Hungary. Earlier books: (szellem)válaszok, A Nap és Holderők egyensúlya . New: Kiterített rókabőr. Known spiritualist mediums, art and explores the relationship between magic.
❀
published June 26th, 2023
"Hiker Gothic"
❀ by Arthur DeHart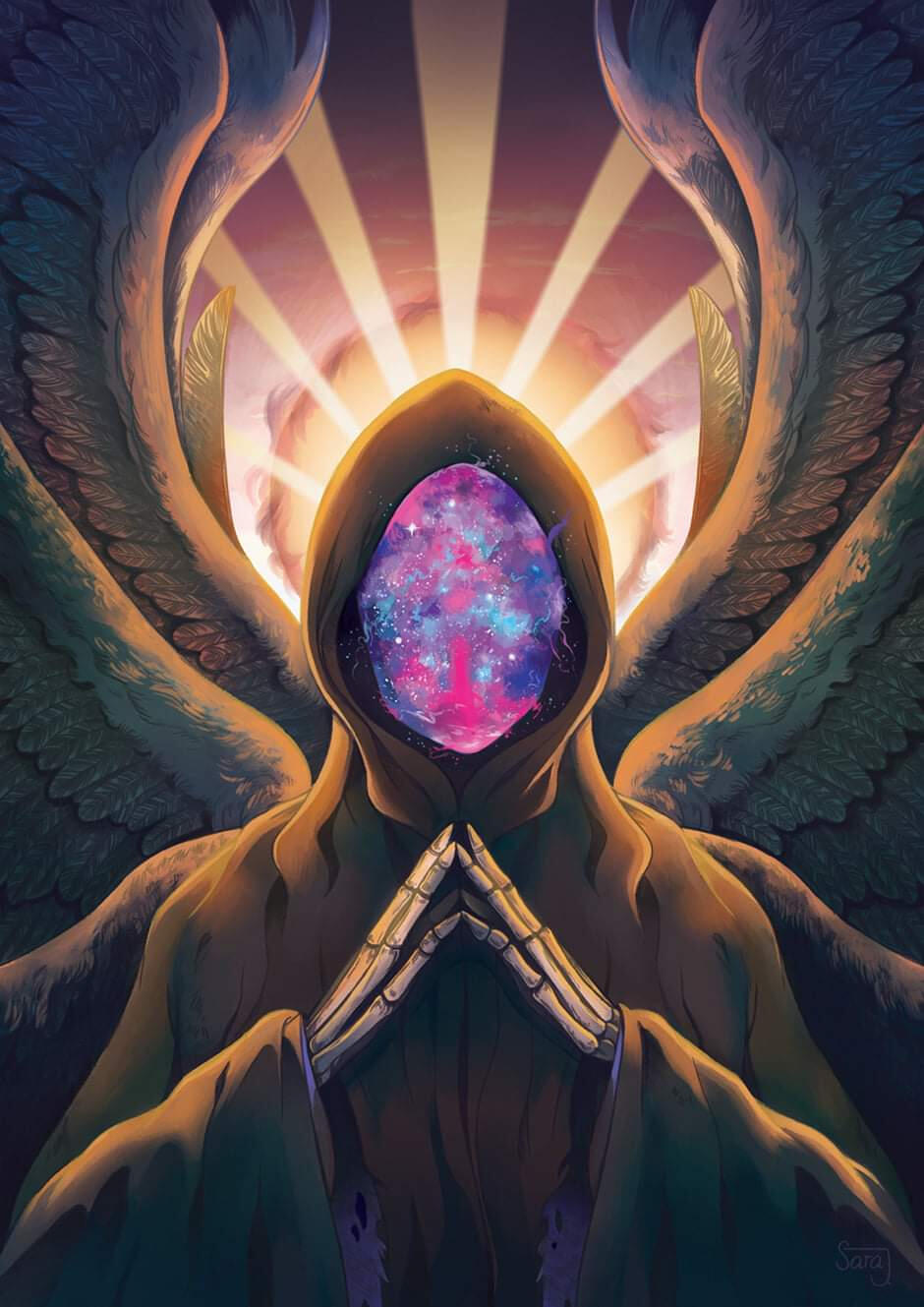 accompanying art piece: "bear this" by dre levant, used with permission of the artist
HIKER GOTHIC: PILOT(bag RUSTLING, leaves CRUNCHING, recorder CLICKS on)DAKOTA: Test, 123. Is this thing working? Yes, green light is on. Okay. Wonderful. My name is Dakota Daughrtey and I am hiking completely through the Appalachian Trail which is a trail going from Georgia to Maine. I took off of work for this for six months and I am spending my entire savings on this….Thomas… I hope you are proud. I miss you..I guess I better catch my recorder up to speed in case I meet an untimely death out here like Thomas.. Though not like they'd find it.. Anyways, Tom is - was my boyfriend. He was a cheerful, lanky man with fair hair and pale skin. He looked like a ghost really. He loved hiking and I loved him. I wasn't as avid a hiker as him. I mean, I am from the city! Sure, getting out and into the fresh air felt great! It was also nice not to hear traffic or sirens or uptight people on their business calls. Plus, it was great to see Thomas smile.. Or how the sun beat off of his hair turning it a gold color. He came alive out here in the forest and I just.. I meandered behind him. He was so happy when he finally crowdsourced enough money to do a thru-hike. He wanted me to come, but I couldn't. Work was crazy, and I just did not want to get in his way. People usually hiked that trail to find themselves anyway and he needed that I think. We had been together for five years and I felt like we needed space.. He would text me every night when he had signal so when I didn't hear from him for a few days it wasn't really that alarming.. But then a week went by and I knew something had to be off but I didn't want to panic. After two weeks had passed with nothing I filed a missing persons report. That was almost a year ago to date. Still haven't found him. We had a funeral. Well it was more of a remembrance. The whole no body thing. We played his favorite songs around the fire and took shots of his favorite whisky. Although it ate at me. Him being out there… meeting his untimely death out …well out here..alone.. Ah I can't let myself get there. I won't think about that. My therapist told me it does no good to think about things of that nature. It's not good for anyone. So here I am. Tromping through the woods hoping to find some sense of peace which I'm not sure is good for me either. I mean, my friends accused me of wanting to find him for myself and maybe I did at one point. But I'm over it now really. I don't think I could find him. I mean if the search and rescue team couldn't find him and the dogs couldn't find him then I really don't think I could find him. He's gone .... (PAUSE). Yeah, so I mentioned I hiked a bit beforehand. I got way more into it after the incident. That's when I got this idea to do this. For him. For me. I watched all of the YouTube vlogs of white women in chacos talking about which natural deodorant they packed and read blog posts about the best granola to munch on. I even put on my pack and hiked up and down the flight of stairs outside my apartment 50 times a day. That got me some weird looks from my neighbors.. Tonight I am crossing into the Great Smokey Mountains portion of this trail. Georgia wasn't easy, but it was uneventful. I met some nice people who are out here trying to find God or themselves or both or some said something about them being God.. Hikers are so, so weird. Anyways, I am staying out in the woods tonight. I have a hammock and I am going to throw a tarp over it. Seems efficient enough.. That's really that. I will update you later. Bye.❀(camera CLICKS on)DAKOTA: It is now 7 in the morning. I slept through the night out here in Dolly Parton country, however, I don't know, maybe I'm being paranoid but I feel watched in a sense. Although, that is probably just me. Last night was my first night truly alone in a few days and all this Thomas talk probably just made me super paranoid. Although I don't know I could have sworn that I heard something out there.. Leaves rustling.. Either way I am using my tent tonight, and I mean animals are a thing that exists and they do live in the woods generally. Anyways, I am going to get some miles in and then I'll do a check in, yeah? Great, uh, bye.(CLICK off)(CLICK on)(SOUND of a male's voice, we seem to have entered the middle of a conversation)DAKOTA: No, really, I'm sorry. I didn't know I couldn't have a fire this close to the trail. I can move.STEPHEN: It's okay. Sorry I spooked ya. You seemed tired and I hate to have to bother ya but that seems to be my job. Bothering people.DAKOTA: (forced LAUGH) Yeah, understood. (RUSTLING)STEPHEN: You aren't out here alone are you?DAKOTA: I-uh- (takes too long to answer)STEPHEN: Girls like you go missing out here alone. Do be careful, yeah?DAKOTA: I- Yeah I can be careful. More than careful actually.STEPHEN: Hm.. Alright then. I will be on my way. I'll be seeing you. (footsteps FADE out)DAKOTA: (releasing a breath she didn't realize she was holding) Damn..(recorder CLICKS on)DAKOTA: (WHISPERS) Hey, so it's nighttime. Today was weird. Very, very weird. I feel like I'm being watched. That is such a cliche hiker in woods alone thing to say, but no really I feel like something is following me. This parkranger appeared out of nowhere earlier.. I didn't think they just strolled around this far up the mountain. I wanted to stay in the lodge on Mt. Leconte, but I really don't think I can get up there today, and I am not hiking in the dark tonight.. So, I've got my tent set up and it's secured. I'm going to try and get some rest. I-I'll see you in the morning..(CLICK off - CLICK on, sound of RADIO STATIC)SW THOMAS: (distantly) Dakota.. Dakota! You made it.(sound of frantic but hushed BREATHING into the mic, like trying to be silent and yet not hyperventilate)SW THOMAS: I'm right outside by the tree line. I can't believe you actually came! This was something I always wanted to share with you. For us. I'm sorry I was gone for so long, but it doesn't matter because you've found me!(more silence and BREATHING and then there's leaves RUSTLING, getting closer and closer into earshot)SW THOMAS: Koda-(RUSTLING right outside the door. Sound of a GUNSHOT, DAKOTA SCREAMS, followed by an unearthly SCREECHING and footsteps POUNDING)STEPHEN: Damn bastards…[END]
about the author
❀
Arthur DeHart (he/him) is a trans man hailing from the hills of Appalachia. He is the owner of Deep Wood Productions Podcast company, poet (Mental Hospital Socks; Three Days Worn, These Hills Still Have Eyes), novelist (The Secrets of Maggie Valley Ranch), horror fanatic and all around weird guy. You can find him on Twitter @artjuldehart or on his website artdehart.net. He currently lives in a van traveling the country.
❀
"Hiker Gothic: Pilot" first posted to Spotify in December 2022, published on moth eaten mag July 7th, 2023
"a message to our happy emotions"
❀ by C. C. Rayne
cw: discussion of self-medication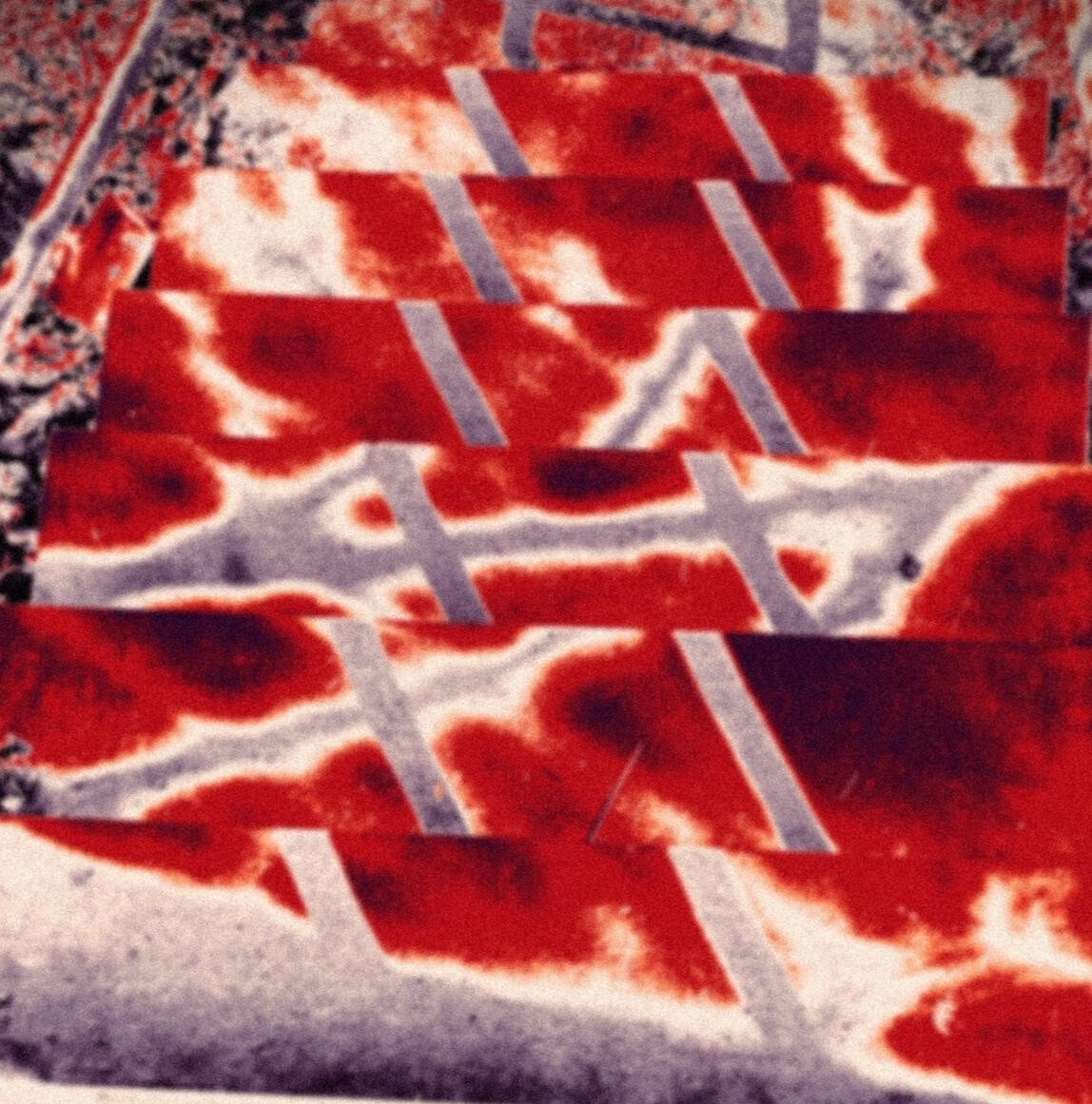 accompanying art piece: "pretentious" by dre levant, used with permission of the artist
a message to our happy emotionsJesus Christ, couldn't you be a little more consistent? We keep checking for you in the corners of
dustbins, and behind the sink, and in that little spot where the kitchen plaster is cracked and
crumbled with mold. You're not allowed to take vacation hours without telling us, you know? It's
quite irresponsible. We checked the backyard, but you're not anywhere in the overgrown grass.
You're not in the shed, and we had to break the window to force the doorknob, so that's a real
inconvenience. And even if you need some time alone, could you at least call once in a while? It's
not like we need your advice. We've learned quite well how to manage without you. You haven't
been very present these past few years, after all! But even with the new routes we've worked out, the
new train tracks where our higher cerebral functions run…we've found we miss how you feel inside
us. How we feel in our ribs and bellies and thighs. How you brighten the room, a strike of lightning
when people congregate, when love is traded freely. We know we took you for granted. And we
know we can't force you to come back. But also - we wish we could. If we could swallow you down
like a lozenge, we would gladly do it. The pill would be pink, and we'd laugh at the color, and then
we'd cry at the laughter, because we missed laughing so much, because it feels so good to feel good
again, and then the tears would wash the happiness away. and we'd panic, and we'd need to take
another pill. And so the cycle would go. That wouldn't be sustainable. But nothing is sustainable
anymore. Anyway, this is just a voicemail to say that if you want to come back, we'll welcome you
home with open arms. We don't know what you look like these days. Maybe you take new forms.
Maybe we won't recognize you. But we'll try - we're going to try! We'll leave a lamp on the porch,
and we'll keep the back door unlocked. We know you're shy; you don't have to announce yourself.
You can just walk in. If we're sleeping, you can come sleep between us, and we'll hold you in our
arms. Like nothing ever happened. Like none of this ever happened.
about the author
❀
C. C. Rayne is a writer, actor, and musician based on the East Coast. A lover of all things weird and discontented, C.C.'s work blends the magical with the mundane. You can find more of C.C's work (current and upcoming) in Bowery Gothic, Crow & Cross Keys, Grim & Gilded, Wyldblood Press, Sublunary Review, Soft Star Magazine, Eye to the Telescope, and Word West Revue.
❀
published July 13, 2023
"A sapphic respin on 'The Raven'"
❀ by SK Meenakshi
accompanying art piece: "feckless" by dre levant, used with permission of the artist
A sapphic respin on "The Raven"❝ Poetry with her coaxings and lurings splayed open on my lap; a steaming mug of tea on a chair,
Unfettered heart tonight; dreary eyes and the grandfather clock striking midnight,
An obsidian hail against my window; obscuring the talcum moonlight,
I look up from my volume of poetry; a raven perched on the windowsill; beady eyes regarding me placidly.An incomprehensible fear descends into the empty caverns of my heart,
"For what do I the owe the pleasure of your presence, majestic raven? Fiend of the dusk!
King of the black forest! Harbinger of forebodings and tribulations!
What set of trials and terrors will you weave in my journey, tonight?
What frightening anguish shall I envisage by your presence?
Or are you mayhaps a friendly companion to my depleted heart? What magic, if I may inquire?""Nevermore!" It shrieked!
Heavens! How I started!
"Nevermore! Nevermore!
Nevermore! Nevermore!
Nevermore! Nevermore!"
It chorused, the room spinning in my vision,
I flung out of my chair, the world shattering at gunpoint!The dainty silhouette of the raven twisting and wrenching,
Like the barks of a dried-out, shrunken tree, seized in the eye of a storm, dusted with witchcraft.
Hail mary! Bloody mary! The sounds of a dying being; a transmuting being!
Murky blood sluicing through the trembling veins, a shadowless aberration springing forth!
A dollop of a moon! A chalice of crimson! Aromatic trills seeping from rouge lips!Madness rattling around in my head like the caws and croaks of silver-lined ravens,
A milky leg of a maiden sliding down my windowsill like rivulets of loose pearls,
Behold! An enchantress of dusk! A shape-shifting enchantress of black art and starlight gleaming on her skin,
Her dress- a mesh of black feathers and dripping scarlet blood; piercing eyes and needle-point claws,
Enchanted and bewildered; my back hit the locked door of my bedroom,
Wobbly consciousness and heartburn of rosy flames circling my tenderly throbbing heart.Soft-footed and graceful; noiseless like the dead leaves sweeping across the marble,
She reaches out for me; hungering eyes and a smile like glass shards poking through my heart,
Her next victim; her fingers dip between the rift of my collarbones and I melt into the floor,
Smelling of wood smoke and pine cones; her bellowing burgundy hair cascading down her cheekbones,
Whispered incantations against my ear, a lullaby for sweetly stirring dreams of intoxication."Nevermore!" She mutters; her fingers digging into the skin of my arms,
Her teeth sinking into the softness of my neck, "Nevermore!"
"Nevermore shall you lament over your weary poetry and volumes!"
"Nevermore shall you sit in your chambers, yearning the balm of love for your parched heart!"
"Nevermore shall you spill your soul out to the indifferent moon, beseeching on bent knees!"
"Nevermore, young dove!" "Nevermore!"
"Sail with me into the undying night, into the intangible where no human's touch will mar you!"The ribbon tying my hair together drops delicately on the floorboards; a last ivory thought in my charred head,
My ruby earrings discarded, naked and spinning on the precipice of frenzy; violet eyes glinting in the twilight,
Hands interlocked and her lips against my dew-specked temple; a crooked smile
And off we go floating into the night! A rush of icy air and an ocean of sparkling lights,
A pair of ravens cawing in the night; reflected off the windowpanes; flower heads softly nodding to the rhythm of the breeze.❞
about the author
❀
SK Meenakshi (She/He/They) is an undergraduate student pursuing her degree in BA English Honours at Kristu Jayanti College, Banglore, India. She has published a poetry collection titled, "Shades of Solitude." They are an avid reader and an aspiring writer.
❀
published July 19th 2023
"Romeo"
❀ by Loki Diakiw
romeoyour fever bones still lay in the groundwork of my church;
that sacred building in the hollowed ribcage of our dusty town,
run with stones dry from the ghost of rivers long gone
and god,
God,
i pray at those pews alone
just me and the dead birds at the altar.
the wings crushed;
fly-ravaged strings of tendon and sinew.
you bring a stench with you that i cannot bear,
like a flickering light obscured by dust on the glass lanterns,
like the insistent hum of flame on its last helping of wick and oil,
like the goodbye that has not left my ears.
it lives there
as your corpse lives under my feet
and i love you
and i love you.
and i love our crumbling walls where no one walks
and i love your smiling phantom and rotten cheeks and ruined heart
which could not hold the melody of the hymns your mother sang
and i love you
and our stupid church
and the stupid god that took you,
if only for your mother's sake.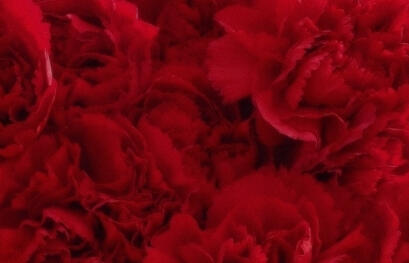 accompanying photograph by dre levant
about the author
❀
Loki Diakiw is a long-time obsessive of fantasy and grimdark genres, and will never turn away from reading anything dragon-related. They are working towards a BA in English and Philosophy, and have attended several years at the SIWC. Specializing in prose, short stories and hopeful for the commitment to finish a novel, you can find Loki @lokidiakiw on Twitter and Instagram.
❀
published August 21st, 2023
moth eaten mag❀ the shop ❀
(please click the picture of each item to be taken to the page to purchase <3)
❀
"Into the Catacombs" a play by Arthur DeHart
$0 digital copy
"terrence vance" holographic sticker
$4 plus a wee shipping
"Cellular"
❀ by Marc Isaac Potter
cw: self-mutilation
CellularSome people pick their nose
At a cellular level.Nothing will satisfy the craving More than picking a scab, or
Picking their nose
Until it bleedsOr creating a new wound.
This is - only sometimes - done
As a deterrent to cutting
Oneself open with a
Jazzy razor blade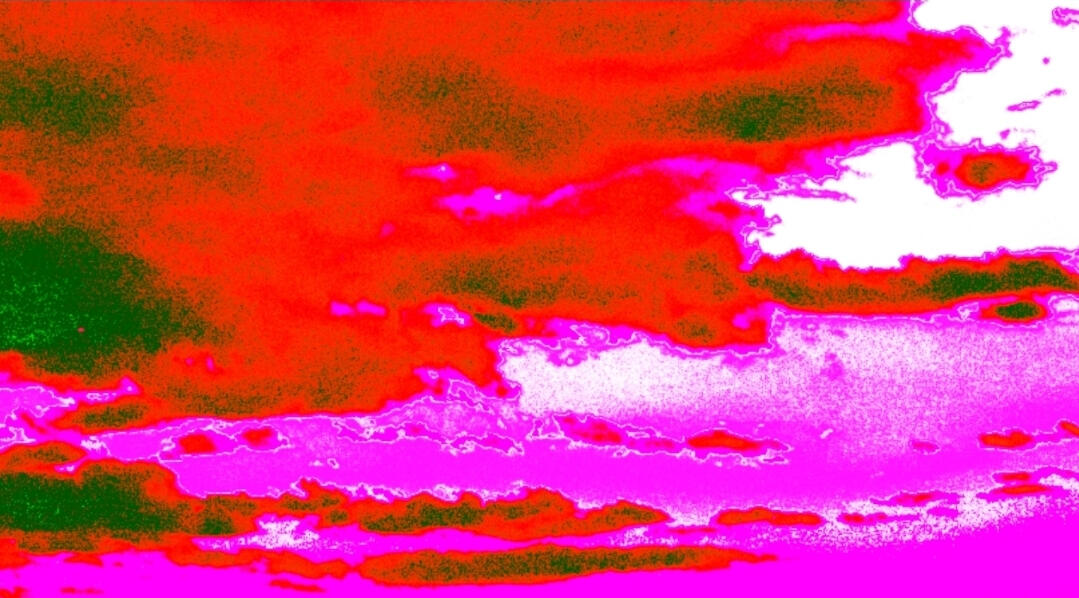 accompanying photograph by dre levant
about the author
❀
Marc Isaac Potter (we/they/them) … is a differently-abled writer living in the SF Bay Area. Marc's interests include blogging by email and Zen.
They have been published in Fiery Scribe Review, Feral A Journal of Poetry and Art, Poetic Sun Poetry, and Provenance Journal. Twitter is @marcisaacpotter.
❀
published September 4th, 2023
"The Big Bad Wolf, Slain"
❀ by Ly Faulk
The Big Bad Wolf, SlainYour hide—scraped clean of meat and blood—
drapes across my shoulders. I press your lifeless jaws to my neck,
press down like you used to do. Jagged and yellow, your teeth leave
indents on my skin, mere ghosts next to the scars you left.I cannot recreate how your breath smelled
as it bore down on me: sweetly rancid. Nor can I summon your body's heat
as it pressed against me, your arms tight as you held me captive.
Your jaws around my throat, never ripping, only gripping.This victory crumbles like clay around me. I would give
anything to be your beloved victim
for one more night. I run my fingers through your fur
and cry diamonds to scatter on your grave.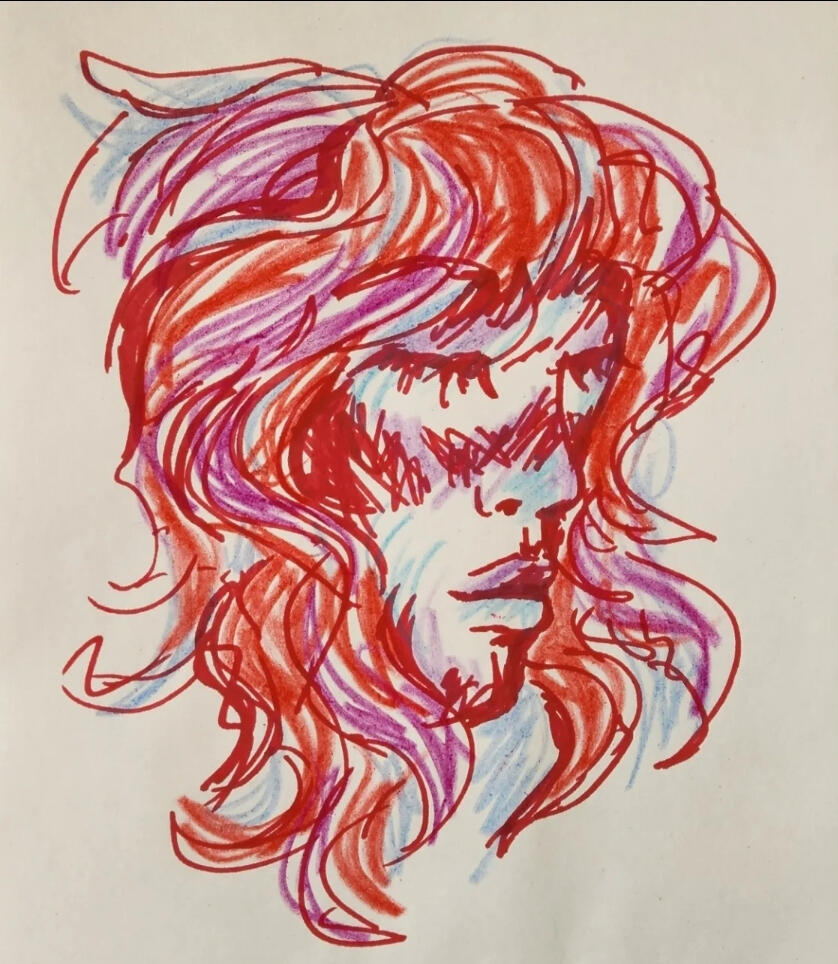 accompanying art piece by dre levant
about the author
❀
Ly Faulk (they/her) is the Editor-in-chief of Eco Punk Literary. Their latest chapbook, Hope, With Bladed Wings, is through Alien Buddha Press. Her upcoming projects are Middle-Aged Mermaid, out in December 2023 through Naked Cat Press, and I Don't Think I'd Make A Very Good Borg Drone, out in January 2024 through Back Room Poetry.
❀
published November 22nd, 2023